On Capacete and the Research-based Residency
Camilla Rocha Campos in conversation with Joen Vedel
21 February 2019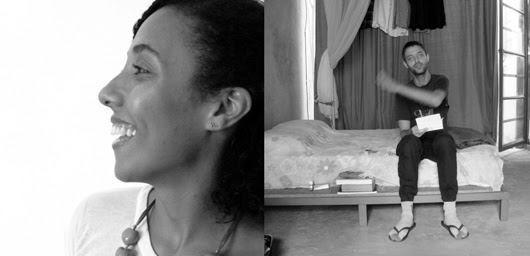 Image: Camilla Rocha Campos, Joen Vedel in Capacete.
SixtyEight Art Institute is very happy to welcome the Brazilian artist, teacher, activist, and artistic director of the Capacete Residency Program in Rio de Janeiro, Camilla Rocha Campos.
Thursday - 21 February at 18:00
Gothersgade 167, Kbh K
Artistic research and residencies allow for new combinations of creativity and time, so their format and programs are of vital importance to emerging research-based art practices. For the last 20 years Capacete has been providing long-term residencies that allow artists time for new experiences, engagement and immersion. As artistic director of the Capacete Residency Program, Camilla Rocha Campos will introduce the ideas behind the residency and, in conversation with artist and former resident Joen Vedel, discuss how artists can use a more research-based residency like Capacete to develop their practices.
If time allows, Camilla Rocha Campos and Joen Vedel will give some answers to questions such as what are the current conditions for critical art practices and institutions in Brazil? How to create a meaningful exchange of cultures, experiences and knowledge(s) from settings like Rio de Janeiro? In which ways does Capacete contribute to building relations between artists in Brazil and the rest of the world?
Drinks will be served after the talk.
---
BIOS
Camilla Rocha Campos is a Brazilian artist, teacher and researcher, micro-political and self-revolutionary activist. Her artwork is collaborative and built through the contribution of people in contexts charged with affection and criticism. In this relational field, she proposes experiences of contemporary art, artistic productions, projects in schools and universities, involving a wide audience and using the body and oral language as main tools. Camilla has a master's degree in History and Art Criticism from the Institute of Art at UERJ (2011). In January 2017, she joined the Q21 Program at the Museum Quartier in Vienna, Austria, and held the workshop "Silent images shout body policies" at Raum_D Art Space. In 2016, Camilla was artist resident in the CAPACETE International Residency Program in Rio de Janeiro where since 2017 she is the artistic director.
Joen Vedel (b. 1983, Copenhagen) is a visual artist, writer and organizer, educated from the Royal Danish Academy of Fine Arts (2011) and The Whitney Independent Study Program in New York (2014). He works in various forms of collectives and has shown his work in a number of big and small institutions in Europe, Brazil and the US, and organized a long list of seminars, film programs and exhibition-projects dealing with the intersections of representation, politics and everyday-life. In 2013 he published his first book of writing, Sammenbrudsstykker, a diary from and about the crises in Greece. Recently, he edited a new publication with texts by Silvia Federici, On Reproduction, Intergenerational Solidarity and the Dancing Body, published by Royal Danish Academy of Fine Arts.