Slow Gala
Curated by Maša Tomšič and Andrea Rodriguez Novoa
4 November - 10 December 2022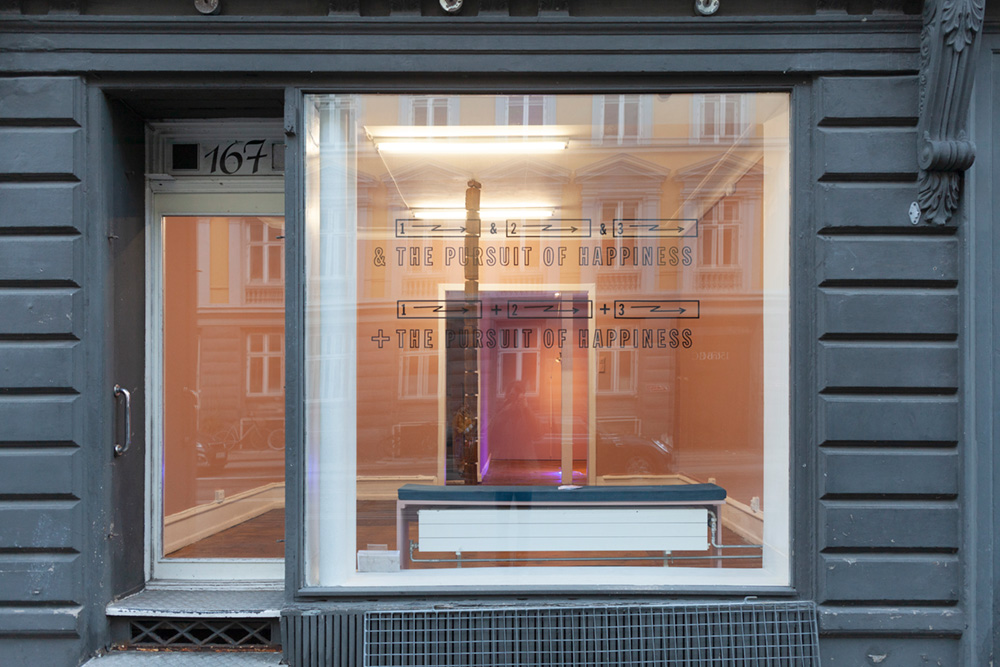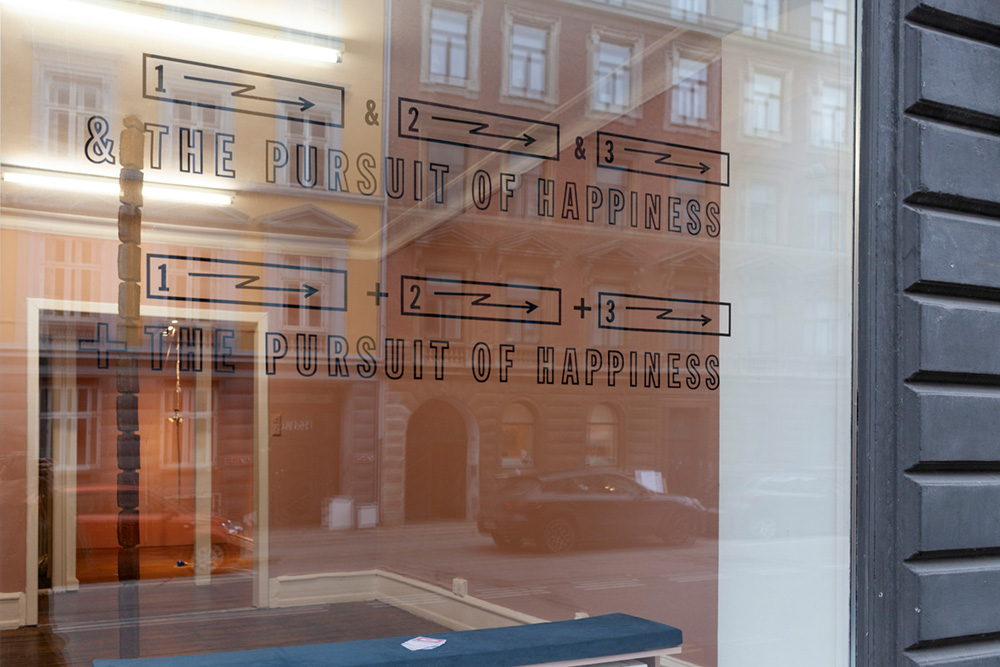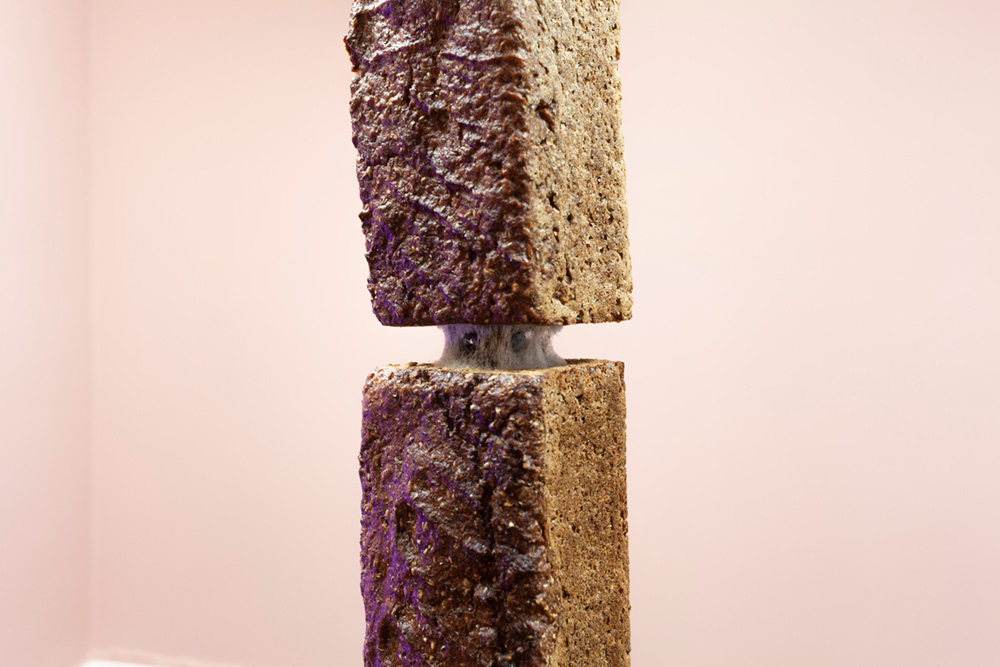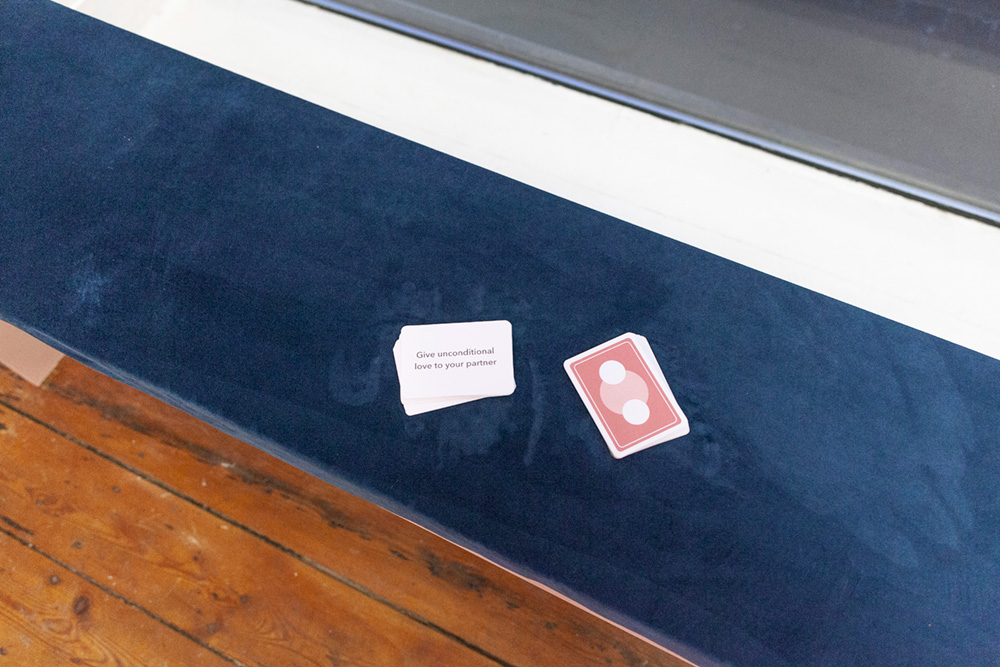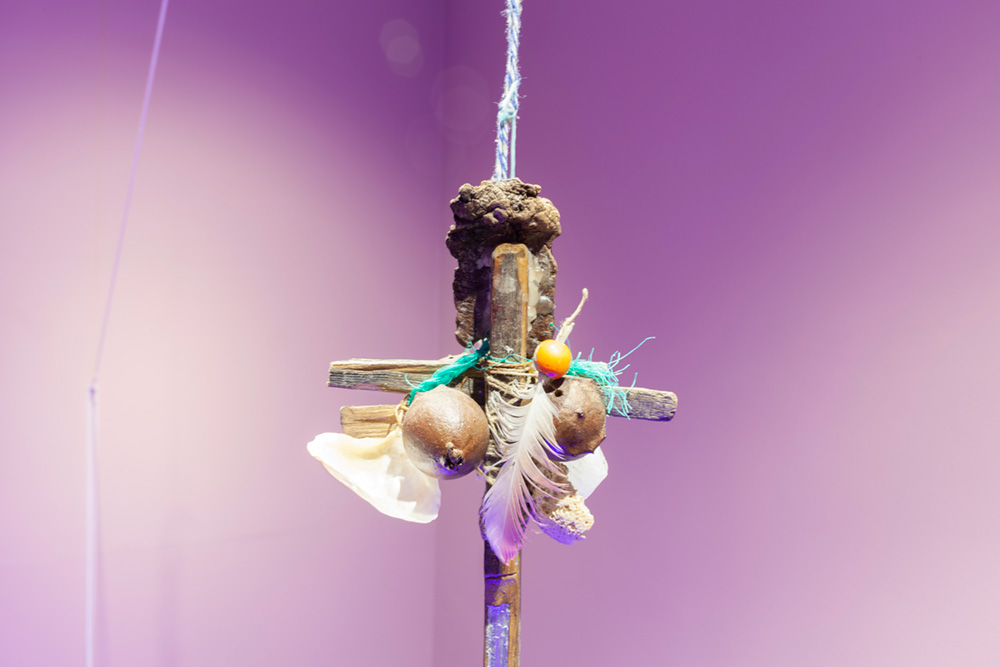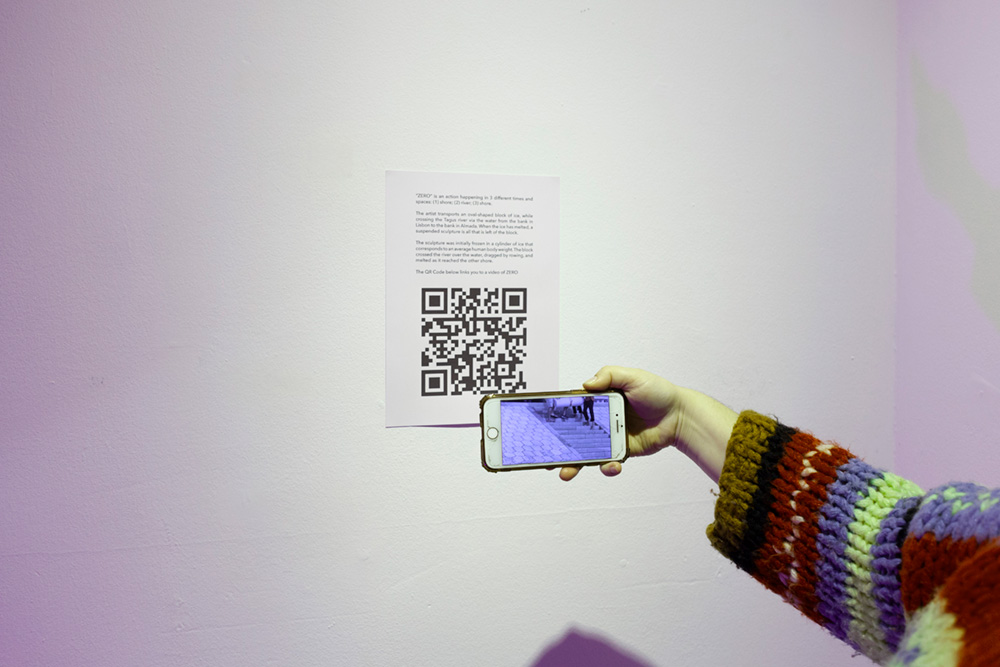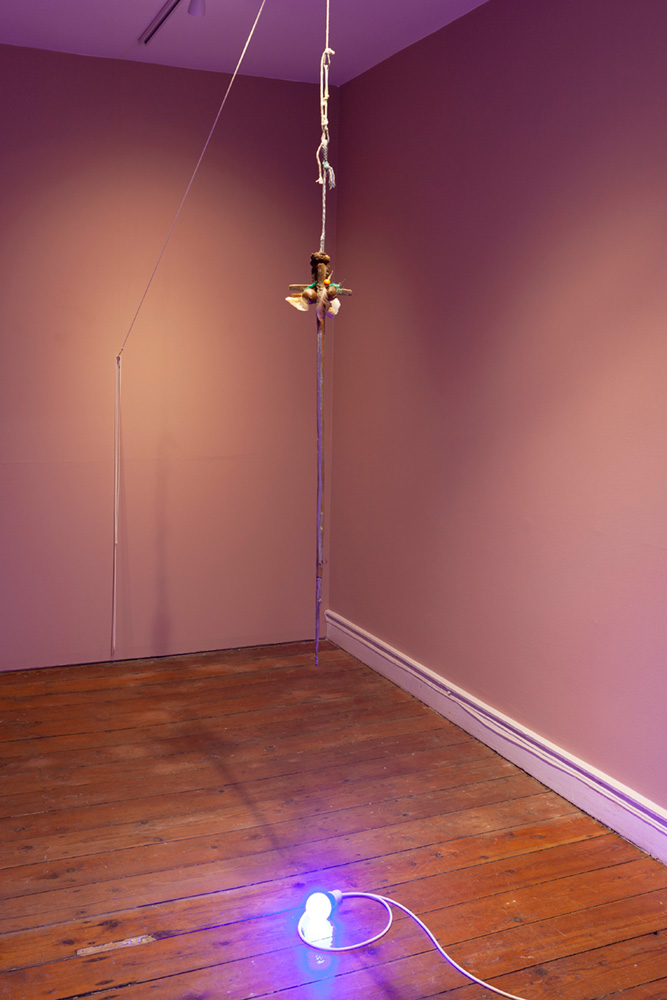 Slow Gala explores affection – affection as a physical movement that connotes fondness and gentleness, openness, agency, and vitality – and as a central incentive for possibilities of growth or change. In this context, the project further aims to re-examine the role of artistic research today while addressing the need for art to be liminal. The key idea is that such liminality does not need (or have) to rely on forceful, abrupt, or violent manoeuvres. Instead, the capacity of an emotional component is underlined, alongside the topic of art and critical thinking as shared and collective gestures, to recycle subjects and materials into expanded and necessary somatic and embodied approaches.
Slow Gala presents works with apparently different settings: of risk, effort, and uncertainty on the one hand, of comfort, nurture, and construction on the other. These two dimensions are joined or combined to create a platform where it is possible to question the core affective parameters that can constructively guide our critical reflections and corresponding active engagements through art. Such space, further, broadly investigates how we relate to ourselves, others, and the environment.
The exhibit introduces slow-paced dynamics as part of a curatorial approach to contextualise the affection. On this background, the exhibition builds on the idea of gala (i.e. an unveiling, or to expose, or lay bare in its etymological sense) as a month-long celebratory and transformational slow event by way of affection - where the slow-moving gala is taken as an opportunity to gather through an extended moment of aesthetic meditation. Therefore, the focus of this experience is to create possibilities of transition to potential different ways of being – a particularly relevant question, given the recent globally-shared period of accumulated uncertainties, fragilities, and disequilibrium.
Bios
Maša Tomšič (1986, Slovenia) is a Lisbon-based curator. She trained as a psychologist, neuroscientist, and photographer with a background in curatorial studies. Currently, she is a doctoral candidate in Philosophy of Science, Technology, Art and Society at the University of Lisbon, working on a project that focuses on the sense of touch, intersubjectivity, and aesthetic experience. Her work includes interdisciplinary research and writing, often informed by close collaborations with artists across visual and performing arts.
Andrea Rodríguez Novoa (1979, Spain) is a curator, architect, and writer. She develops curatorial projects and writes from and about affection to talk about art. Rodríguez Novoa is co-director and head of the professional program for Barcelona Gallery Weekend. She directs, curates and teaches at the BAR project, a residency and training program in visual arts she co-founded in Barcelona in 2012. Since 2018, Rodríguez Novoa has collaborated with Leopold Banchini Architects in Geneva. In 2020, she co-founded MIA (Meta-Industrial Architectures) in Barcelona.
Sara Bichão (1986, Lisbon). A selection of her shows includes Find me, I kill you (solo) at the Calouste Gulbenkian Foundation Foundation (2018, Portugal); Storytelling at MAC Lyon (2019, France); What is the thing, What is it (solo) at Galeria Filomena Soares (2020, Portugal); Clorophilia at Porta33 (2021, Portugal); Twin Islands at CAC Passerelle (2022, France). Her work is part of art collections such as the Antoine de Galbert Collection, France, and CACE (Portuguese State's Collection of Contemporary Art).
Manon Harrois was born in 1988, lives and works in Troyes, France. Harrois studied at ENSAAMA, Paris. She was awarded the Jean Walter Zellidja research prize by the French Academy for her research and spent a year in the Sahara desert, in Niger, with Tuaregs and Fulani. She has completed several artist residencies, such as Biennial Ano ZERO, Coimbra (2017); CIAJG, Guimaraes (2018); ARQUIPELAGO, Azores (2018); PORTA 33, Madeira (2020); Julio artist-run space, PARIS (2021); FRAC Champagne Ardenne, Reims (2018 and 2021), Kai Gallery Erdmann, BERLIN (2022). Her work was supported by the DRAC Grand EST, the Grand EST Region and the CNAP in 2021-2022 and recently entered the public collection of the FRAC Champagne Ardenne in 2021.
Valentina Desideri (Italy, 1982) explores study as a form of making art and making art as a form of study. She trained in contemporary dance at the Laban Centre in London (2003–2006) and later did her MA in Fine Arts at the Sandberg Institute in Amsterdam (2011-13). She is currently a PhD candidate at the Social Justice Institute at the University of British Columbia, Vancouver. Her work has been shown at Kadist Foundation (2021), Kunstverein Hamburg (2020), Centre Pompidou (2019), Garage Museum (2018), Artspeak (2017), The Showroom (2016) and Kunstverein Amsterdam (2015), among others. She is one of the co-organizers of the Performing Arts Forum in France and the online platform www.ehcho.org.
Lawrence Weiner (1942-2021) was born in New York, NY, USA, where he lived and worked. He was one of the central figures of Conceptual art, whose work pioneered the use of language as a sculptural material. He exhibited widely during his nearly sixty-year career. Among many honours, he was awarded fellowships from the National Endowment for the Arts (1976, 1983), a Guggenheim Fellowship (1994), the Wolfgang Hahn Prize, Museum Ludwig, Cologne (1995), a Skowhegan Medal for Painting/Conceptual Art (1999), an Honorary Doctorate of Humane Letters from the Graduate Center, City University of New York (2013) and recently the Roswitha Haftmann Foundation Prize (2015), and the Wolf Prize and the Aspen Award for Art in 2017. Weiner is represented in numerous leading art museums worldwide, including Denmark (National Gallery of Denmark, ARKEN, Louisiana and Holstebro Kunstmuseum, which held his solo exhibition CLOSE TO A RAINBOW in 2021).
---
A kind thank you to Instituto Camões, The Embassy of Portugal in Denmark, Isabel Sarmento for direct support of Slow Gala.