Talks, Lectures, and Conversations
Liv Schulman at Alt_Cph 18
26 and 27 May 2018
SixtyEight Art Institute was very pleased to announce the release of our latest book, Infinite Bet by Liv Schulman, published by our own editorial group Really Simple Syndication Press. This was accompanied at Alt_Cph 18: Over-Existing by Liv Schulman giving the lecture performance Formal Economy, which built on themes she addresses in both The Empathy (her contribution to the Cut the Gap seminar at SMK the National Gallery of Denmark in November 2017) and in the newly published Infinite Bet.
An extract from the performance:
---
Drag Kings, Phantoms, Mirrors, Hands (one hundred years of dis/appearances)
Conversation and screening programme: Saturday, 25 November 2017
Michala Paludan, Cyklus
Collaborative presentation of excerpts from the installation
Kerstin Honeit, Suza Husse and Michala Paludan, et.al.
In conversation following screening of Kader Attia, Reflecting Memory and Kerstin Honeit, my castle your castle.
Coming very soon...
---
Curatorial Research Presentations
Agata Chinowska (Poland), Inês Geraldes Cardoso (Brazil), Helena Santos Elorriaga (Spain)
14 October, 2017
SixtyEight Art Institute introduced Agata Chinowska, Inês Geraldes Cardoso, and Helena Santos Elorriaga to the city of Copenhagen. They presented their curatorial research, which was followed by a moderated conversation. The evening was a unique opportunity to meet the curators and listen to how they work with research and exhibition-making strategies in different international settings, such as Poland, Spain and Brazil.
CPR is an international research program that creates networks of emerging curators, in order to connect with art scenes around the globe. SixtyEight Art Institute served as a local host for the CPR program, and all 8 participants of the THE BALTIC SEA program were present during this 'Talks' series evening.
Please read more about CPR: www.curatorialprogram.org/curatorsinresidence
---
The Curatorial Thing Speaker Series
28 - 31 August 2017
Under the concept of a 'thing', an old Nordic concept for a meeting place, an assembly of the community, or what can be defined as the precursor of the modern term 'parliament', SixtyEight Art Institute invited a range of Nordic-based and international speakers to address the various potentials opened by exhibition-making. The talks included reflections on aesthetic and political potentials in art, the exhibition as a social, affective or discursive situation for new pedagogical possibilities in artistic practices, and how these play out as various dimensions of artistic and curatorial methodologies.
The speakers shared research and perspectives in an informal structure of 'lectures' followed by moderated peer conversations with the audience. The aim of the conversations was to reflect upon how the 'curatorial' continues to be collaborative, artistic, co-creative, critical, and experimental within the ever-expanding parameters of cultural production. In this speaker series, we aimed to bring forth fundamental questions about autonomy, authorship, dissemination, editing, criticality, discourse, and the writing of art history.
To this end, the speakers and conversations in the program reflect how education, collaboration or shared information can stimulate the next generation of artists and curators to form new, innovative and progressive curatorial or artistic propositions.
Simon Sheikh, Changing the Currency
Jacob Lund, Trans-individuation and Artistic Re-appropriation of the Medium's Milieu
Judith Schwarzbart, Curatorial Reflexivity
---
Multi-colonial Zones: Rodolfo Andaur in discussion with Hugo Hopping
24 June 2017
Rodolfo Andaur, curator, writer, professor in curatorial studies, and current guest-curator at SixtyEight Art Institute discusses his curatorial research dealing with the multi-colonial zones of Latin America. Andaur thinks of these as diverse 'fields of inquiry' where urban landscapes, cultures, ethnicities, and artistic practices have a collected and complex relationship with the colonial past. Rather than forcing idealistic simplifications of cultural identity, Andaur's research looks into the heterogeneous texture of multiple regions that contest this colonial past, and which are asking for new emotional, conceptual, and artistic relations stemming from historical and contemporary forms of survival and resistance.
Throughout his curatorial research process, Andaur has connected with visual artists, researchers, and curators in order to gain a better understanding of local contemporary art practices and their importance within the cultural ecosystem of Latin America. To this end, the talk discusses Andaur's exhibition projects, artists he is working with, and elements of the exhibition Money Laundering which he curated for SixtyEight Art Institute.
---
Talk with writer and curator Santiago García Navarro
7 June 2017
This talk was organized in connection with SixtyEight Art Institute's exhibition I am also stepping on wet sand, realized by Carla Zaccagnini through a close collaboration with Santiago García Navarro. At this evening event, García Navarro introduced his research on the modern construction of the beach, both as a leisure phenomenon and contradiction.
Santiago García Navarro has been exploring the city of Mar del Plata for a number of years, and spoke about the kind of images and stories that have called his attention and led to this research project on destination culture. This research examines the ways in which artists have explored social imaginaries by slightly changing the conventional formats of touristic photography (postcards, advertising, etc.), thereby making visible the effects of consumption and entertainment development in coastal areas. García Navarro looks at the ways in which ideas of 'tropical paradises' are being reimagined and created in non-tropical regions as forms of nostalgic longing, looking for the 'non-existent golden age', and which aim to render elegantly as past nature, but in fact end up looking rather kitsch or stale. In his own words:
'A beach resort is a world of clichés. Not only if it is famous. Those that are not, imitate the famous ones. What they have in common is that they're all structured according to more or less given principles. Which means that all of them are, in essence, the same place. Even if, at first glance, they may look rather different from one another. Some of them remain the same for ages. Some change as fast as the fastest-growing cities in the world. Some are small and quiet. Some are gigantic and buzzing. Some are well-known worldwide. Some are well-known only within a country or area.'
The talk delved further into the artist and writer's collaboration around the experience of the Beach, and looked into the exhibit's methodology, sources or histories, from which García Navarro put together his side of this co-production.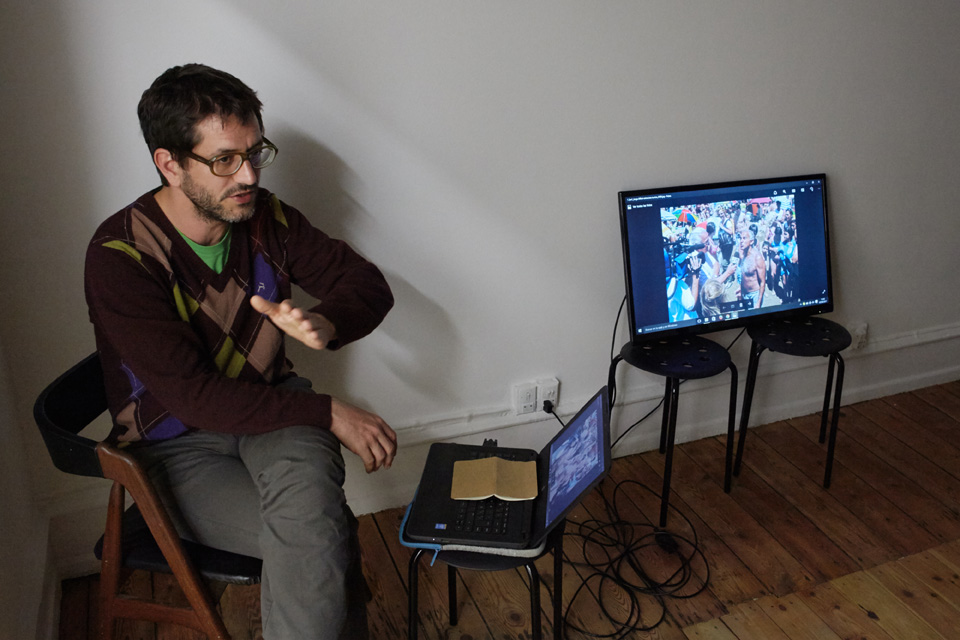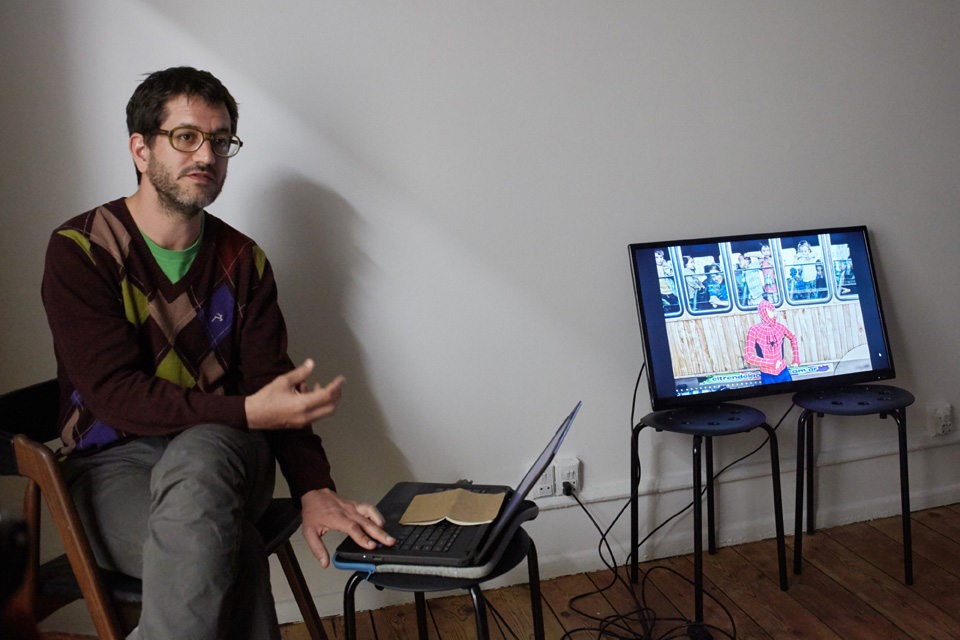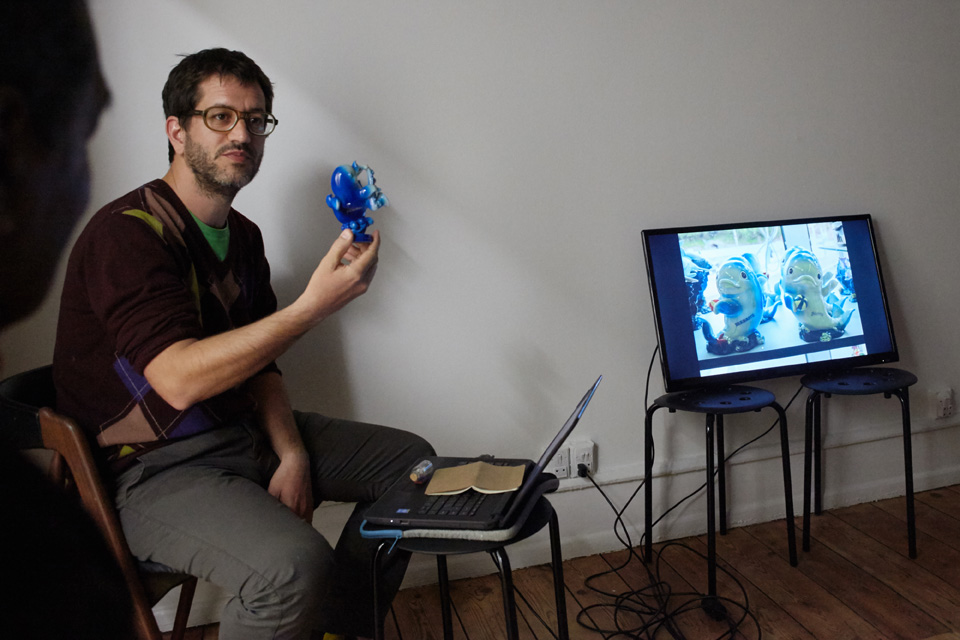 Santiago García Navarro during his talk at SixtyEight Art Institute
Photo of Bathers in Mar del Plata, Argentina
---
Acid Money: Goldin+Senneby with magician Malin Nilsson
21 April 2017
A magic demonstration with Malin Nilsson exploring the history of 'conspiracy magic'. A practice in which magicians make use of their techniques and methods for political purposes, beyond the stage.
The audience was invited to join a trip from cold war brainwashing techniques to contemporary finance magic. The evening offered a special opportunity to take some magic home with you.
Held in relation to SixtyEight Art Institute's exhibition Exchanging Money for Working Space or Money Equals Working Space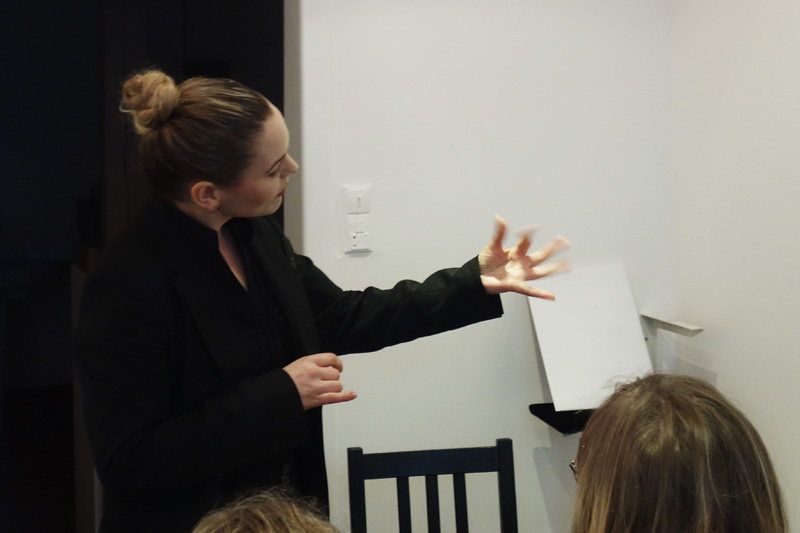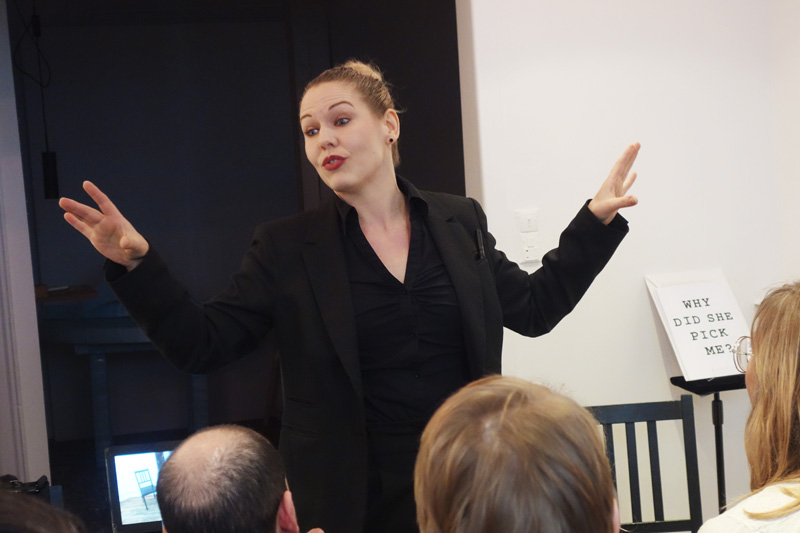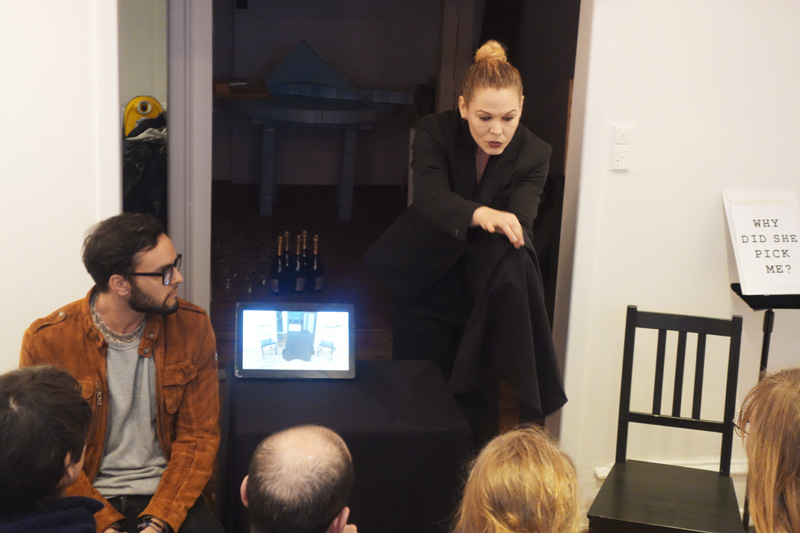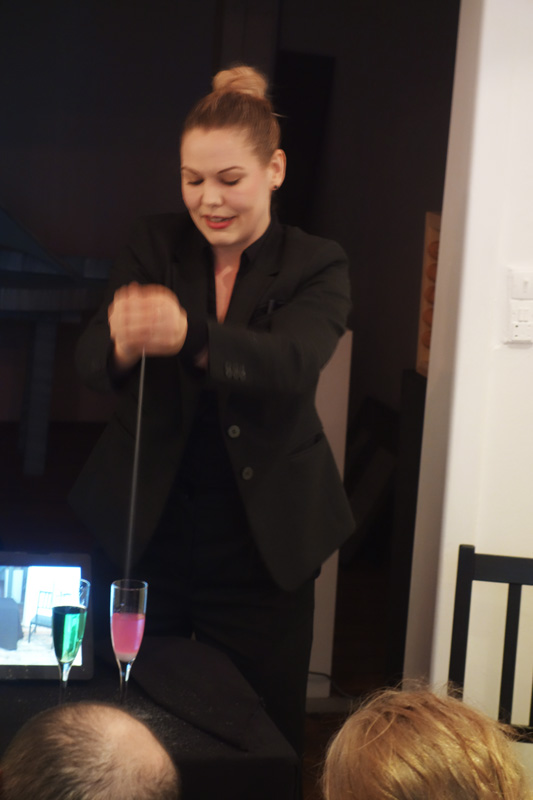 ---
Joshua Clover in conversation about his book Riot. Strike. Riot
6 April 2017
Joshua Clover, poet and professor of English literature at University of California Davis, discusses with Christopher Sand-Iversen his recent book Riot. Strike. Riot, which seeks to provide us with a theory of riot and strike within a new history of capitalism. Tracing the history of the riot from the village marketplace to the global city and the freeway via the strikes of the industrial era, he finds a transformation of capital from circulation-based to production-based and back again, with a difference. Focusing on the United States and Britain, which have been the loci of much popular revolt in the industrialized era, Riot. Strike. Riot addresses the re-emergence of riot in the twentieth century and up to the present, investigating the ways in which it is similar to price-setting in the seventeenth century marketplace, while also uncovering the characteristics which are unique to its most recent iterations.
The talk addresses several of the book's most crucial ideas, such as the respective links between strike and production and riot and circulation, capital's creation of a 'surplus population' of workers whom it does not require for work yet are in need of employment, the racialization of people surplus to capitalism's requirements, and as a corollary the recomposition of class distinctions. Why is that the strike is no longer an effective form of protest, and what does a rioting crowd signal by occupying places of circulation?
---
Market for Immaterial Value, First Shareholder's Meeting
11 March 2017
With Valentina Karga, Steyn Bergs, Charlotte Præstegaard Schwartz, Iben Bach Elmstrøm, Anne Julie Arnfred, Søren Thilo Funder, Mai Hanquist Takawira, and Christopher Sand-Iversen.
In collaboration with 'consultant' Steyn Bergs, Market for Immaterial Value hosted its first shareholder's meeting at SixtyEight Art Institute in Copenhagen, in connection with the exhibition Exchanging Money for Working Space or Money Equals Working Space, where it was among the exhibited works.
---
Rough Trade Panel Discussion
4 February 2017
Talk with Imani Tafari-Ama, curator at the Flensburger Schifffahrtsmuseum; Astrid Nonbo Andersen, Researcher at DIIS Danish Institute of International Studies; Jeannette Ehlers, artist; and Tina Helen, artist. Moderated by the curator of the Rough Trade exhibition, Earl Miller.
The Rough Trade panel discussion centers on the discursive conditions framing trans/cross-cultural art. It stresses the current global-political climate of migration and the growing responses of intolerance towards it. Informing these responses are the historic backdrops of lingering colonial histories, like those of Canada and Denmark that perpetuate hegemonies of race, culture, and labour oppression.
Panelists will be addressing how such colonial histories are embodied or rising in trans/cross-cultural art. With special focus, the panel will reflect on questions proposed by the exhibition Rough Trade at SixtyEight Art Institute, such as its thematic use of the switching between a range of dominant normative roles and marginalized ones, maybe suggesting new alternatives to the current power structures. The panel will also expand its questions into how activism and academic discourse can intersect with art which engages with colonialism, racism, and migration politics. Operating in this wider context, the panel comments on the recent Right-wing turn in Western politics, and the refugee crisis with its metastatic anti-immigrant sentiment. It asks how art, activism, and academia can maintain a decolonizing practice in such times, especially since these fields face what seems an endless barrage of targeted accusations, such as "political correctness" and other pejoratives.
---
Post-migrant Perspectives on Contemporary Art and Culture
20 August 2016
Moritz Schramm, Associate Professor and Researcher at the University of Southern Denmark, Department for the Study of Culture.
In connection with the exhibition Your Danish is Good
Post-migration is referred to as a shift in which cultural producers are looking beyond established and two-dimensional definitions of migrant identity politics. These are usually driven by binary positions, such as native versus foreign, or 'us' versus 'them', or between self and the other. The post-migrant spectrum proposes that the diversity of backgrounds, lifestyles, and ethnicities is a norm, rather than an exception. A condition where artists, seeking creative transformation and individual recognition, could explore possible third spaces for fomenting new perspectives. More importantly, where their backgrounds engage and refine beyond the political and cultural ties given by their communities of origin and their host countries.
Post-migration looks to a range of questions regarding the state of nativist politics and culture, with the potential to revise art histories linking modernism and migration i.e. Kandinsky (Russian, later French) or Marcel Duchamp (French, became a U.S. citizen in 1955), to opening new alternative readings for the contributions and positions taken today by contemporary post-migrant art production, in addition to gaining agency over and diverting prevalent processes of Othering in the future.
The talk will also serve as an introduction to the research Moritz Schramm is currently leading through the collaborative research program 'Art, Culture and Politics in the 'Postmigrant Condition'', conducted from the University of Southern Denmark, and which is funded by the Danish Council for Independent Research.
---
Mexico City´s Urbanitas: Spatial Memory and Emotional Communities
21 May 2016
Dr. Johanna Lozoya, Writer, Cultural Historian, Architect and Coordinator of the Emotion Studies Group - Mexico (GEE-MX Lab: City and Emotions) from the Architecture, Landscape, and Urbanism Research Center School of Architecture, University of Mexico (UNAM), Mexico City.
A video/sound/photography presentation that enables the audience to connect with Mexico City as a daily/weekly/monthly spatial-emotional phenomenon. Through a set of synchronized images and sound data, this city becomes a "living narration" of what this modern urban experience means to those that live in it and how humans and non-humans (architecture, urban infrastructure, technology, etc.) are inside of a network of "emotional bodies." This presentation shares with us some of the latest research from the Emotion Studies Group - Mexico.
Held in connection with the exhibition New Rocks Upon the Beach
---