Less Influencers, More Poets Readings with Anna Fro Vodder and Bettina Vestergaard
12 December 2018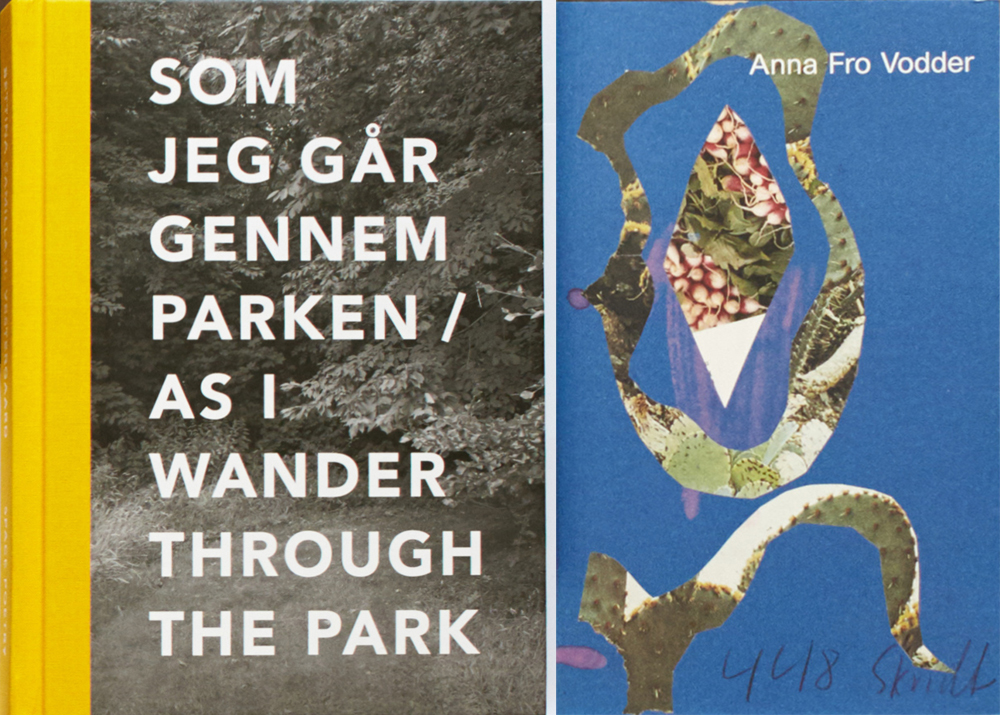 Image: Left: Bettina Vestergaard, Som jeg går gennem parken; right: Anna Fro Vodder, 448 skridt.
SixtyEight welcomes you to the second event during Space Poetry's bookstore intervention in our exhibition space, Less Influencers, More Poets. On this evening Anna Fro Vodder and Bettina Vestergaard will each present an aspect of their work which has been published by Space Poetry.
Wednesday 12 December, 18.00 - 20.00
Gothersgade 167
Anna Fro Vodder will present and read from her book 448 skridt (448 Steps), a collection of images and texts which came about while the artist was preparing her exhibition 'Afterglow' in November 2017. Born of shopping trips, shilly-shallying and coffee breaks, 448 skridt offers glimpses into Fro Vodder's busy and at times uncertain artistic journey towards the completion of the exhibition. As a whole, the book seeks to identify the points at which an artwork actually takes form, begins — and where it might be said to end, to reach its fulfilment.
The reading will last c. 15 mins.
Bettina Vestergaard will read from and make an audiovisual performance of her book Som jeg går gennem parken / As I Wander Through the Park. Vestergaard has for a number of years worked with the story of the deceased author Elsa Gress and her gesamtkunstwerk from the 1970s, 'Decenter' at Marienborg Manor on the island of Møn. The book is a montage of texts and photographs which retells the overlooked story in the form of a critical and poetic reflection on photography, historiography, gender, memory and place.
The performance will last c. 20-30 mins.
Drinks will be served and all are welcome. There will also be ample opportunity to browse the many titles on offer from Space Poetry.
---
Bios
Space Poetry began as a group of aspiring young artists, with their first publication appearing in 1980. A few years later they initiated the magazine Pist Protta, which has since developed into a seminal fixture on the Danish art scene. Space Poetry, now run by Jesper Fabricius, has gone on to publish many titles across the array of art book production, including poetry collaborations, book objects, and artistic research. Space Poetry and Pist Protta have been featured in numerous exhibitions in Denmark and internationally, and have received several awards, such as the C.F. Hendriksen Medal from the Danish Association of Book Craft.