THE CURATORIAL THING: The Curator is the Weather (Fourth Edition)
1 - 9 October 2020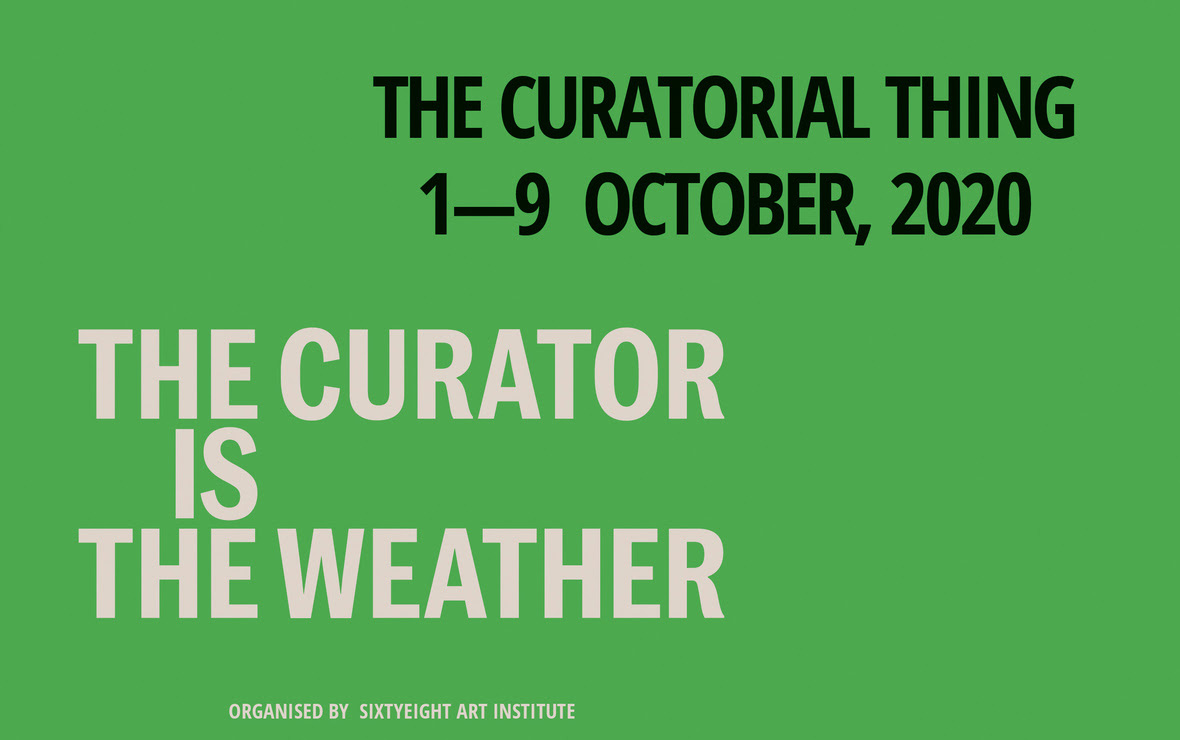 The Curatorial Thing 2020: The Curator is the Weather, asked how the attention of artists and curators to issues such as climate change and new technologies can contribute to a more nuanced understanding of how science and technology can approach the building of a future of mutual relations, taking into account the continual evolution of human nature in and with the natural world.
Both a programme of public lectures and a series of workshops for 14 participants who had applied via The Curatorial Thing's Open Call were organised.
The daytime workshop programme included the following:
Hugo Hopping on Climate Pedagogies, with a presentation on Site to Editorial Research by Christopher Sand-Iversen
Artist Catherine Sarah Young on Visualizing Emission: Pandemic Adaptations
Curator Caterina Avateneo on her curatorial research and methodology
Theresa Scavenius, Associate Professor in Climate Research at Aalborg University, on the topic A green transition isn't possible. What do we do now?
Line Ellegaard, Curator and PhD Fellow at the 'Art as Forum' research centre, University of Copenhagen, on Collective Mapping: Exhibition Histories and Practices of 'The Curator Is The Weather'
Studio visit with the artist group SUPERFLEX
Artist Frans Jacobi on his book Aesthetics of Resistance and the upcoming project Are You Ready?
A guided tour of local sustainable projects with community NGO Miljøpunkt Amager (Environment Point Amager)
Exhibition visit at Den Frie with artist Jens Haaning.
Evening Lecture Programme
In addition, the workshops for the participants were accompanied by evening lectures which were open to the public as well as being live-streamed.
Recordings of several of the evening lectures can be viewed below.
2nd October
Speaker: Jeppe Ugelvig: On the 'forensic' work of Peter Brandt
Jeppe Ugelvig, independent curator and critic.
Speaker: Peter Brandt: Regarding the Victim and Cultural Production.
Followed by a conversation between Peter Brandt and Jeppe Ugelvig.
Peter Brandt, Danish artist based in Copenhagen.
6th October
Speaker: Oscar Salguero: Artists Books as Documents for the Discussion of Alternate Climate Realities
Oscar Salguero (US) is a design researcher and independent book curator
Speaker: Ilethia Sharp: The independent curator on human-to-nature parallels
Ilethia Sharp, Independent Curator
Keynote Speaker: Caterina Avataneo: Thinking in Three. A curatorial methodology for the collaborative nature of producing meaning out of differences
Caterina Avataneo, independent curator based in London
7th October
Speaker: Henrik Lübker: Process, transformation and performativity in the new Hans Christian Andersen Museum
Henrik Lübker, Creative Director, Curator, The Hans Christian Andersen Museum
Keynote speaker: Sidsel Nelund: 'Things in Contemporary Art' as preamble for how we assemble and how we withdraw
Sidsel Nelund, PhD. Nelund is a theorist and analyst on Artistic Research and Knowledge Production and a collaborator, teacher, mentor and writer in contemporary art.
8th October
Speaker: Jessica Bennett: Exploring immediate curatorial responses to care, solidarity and slowness in crisis
Jessica Bennett, Freelance Curator / Associate Curator, PINK, Manchester.
Speaker: Tereza Záchová: Atomic Life
Tereza Záchová, independent curator / co-curator at Gallery 35M2 in Prague.
Keynote Speaker: Rasmus Nielsen: "It is not the end of the world"
Rasmus Nielsen is an artist and founding member of SUPERFLEX. SUPERFLEX is an expanding collective of humans and non-humans working with an expanding idea of art.
The Curatorial Thing 2020: The Curator is the Weather was organised by Hugo Hopping and Christopher Sand-Iversen for SixtyEight Art Institute.
---
Funded by Nordic Culture Point