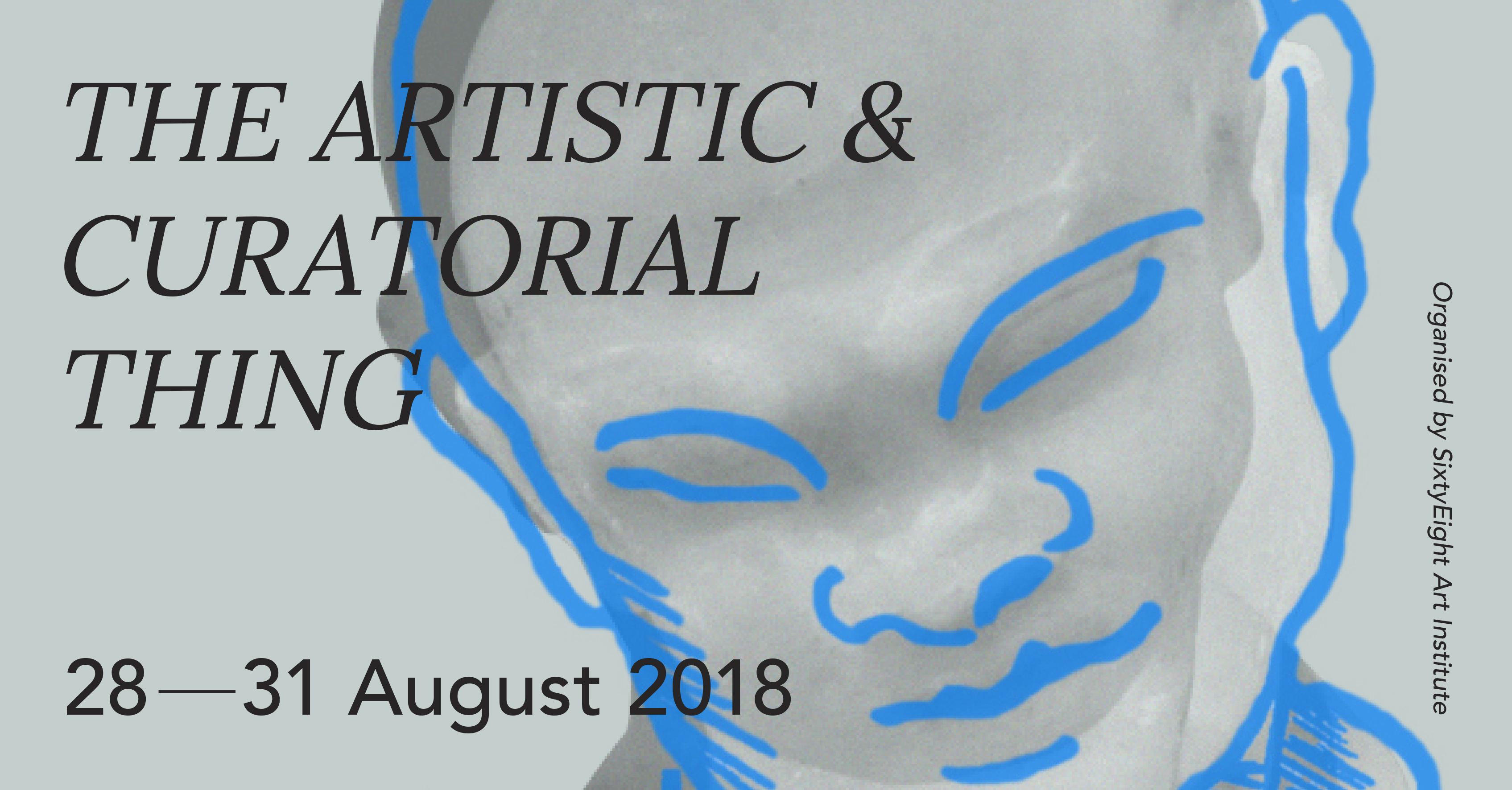 Public Talks: Frans Jacobi, Bassam El Baroni, Sidsel Nelund, Pedro Gómez-Egaña, Irit Rogoff.
28 - 31 August 2018
Location: Faculty Library of Social Science (Det Samfundsvidenskabelige Bibliotek), Gothersgade 140, DK-1123 Copenhagen K)
---
Art Production in the New Creative Economy.
Full program for this year's The Artistic & Curatorial Thing.
Organized by SixtyEight Art Institute
SixtyEight Art Institute is delighted to invite you to the public events surrounding our summer program The Artistic & Curatorial Thing. We have invited artists, art writers, curators, cultural producers, and theorists to collectively reflect upon how to create a future for independent artistic and curatorial research and knowledge production.
The aim of the program is to reflect on how artistic and curatorial methodologies continue to be collaborative, co-creative, critical, and experimental within the ever-expanding parameters of cultural production. How can artistic development persuasively balance the importance of artists' practices, artworks, and critical ideas in times when these often take second place to mediation, value creation, and social capital?
The talks and conversations will revolve around fundamental questions about production in the field of contemporary art, such as the production of knowledge, of space, of histories, and of artistic and curatorial discourses. If exhibition-making and other means of making art public are increasingly perceived, used, and disseminated as a kind of social capital – a resource in the creative economy – how do artists, writers, and curators create or maintain independent and critical discourses in an expanding cultural sphere, which increasingly seeks to promote and develop spectacle, performativity, or entertainment?
All talks are free and open to the public.
Faculty Library of Social Science (Det Samfundsvidenskabelige Bibliotek), Gothersgade 140, DK-1123 Copenhagen K) This building is located (2 mins walk) near SixtyEight Art Institute.
---
TALK PROGRAM OUTLINE:
Tuesday 28 August:
19.00 - 21.00:
Artist Pedro Gómez-Egaña – Economies of Attention and Sites of Exception.
Moderator: Christopher Sand-Iversen, Director, SixtyEight Art Institute.
Pedro Gómez-Egaña's talk will reflect on our general crisis of attention. He will also discuss how certain artistic approaches attempt to resist the intensities and saturations that we are exposed to in everyday life, including 'scrolling' or 'supermarket' modes of viewing in visual arts. Part of Gómez-Egaña's artistic practice investigates 'economies of attention' in relation to temporality, and how these relate to technological progress. His work often refers to historical and literary examples of industrialization, be it early engineering or mythical machines, and juxtaposes them with current notions of acceleration and media saturation. The role technology plays in sensorial manipulation, and political instrumentalization of time is crucial to his research.
Pedro Gómez-Egaña (Born in Colombia). Artist, Researcher, Professor of Sculpture and Installation at the Faculty of Art and Design of the University of Bergen, Norway. Gómez-Egaña has developed a variety of research projects at different institutions and with partners such as Istanbul Biennale, Goldsmiths College in London, Kunstnernes Hus in Oslo, The Laban Centre in London, Bergen National Academy of Arts, and Universidad Nacional de Colombia. His recent work has been staged at various platforms such as Performa13 in New York, Brussels Biennial, Kochi-Muziris Biennial, Marrakech Biennial, South Bank Centre in London, Kunstnernes Hus in Oslo, Hordaland Kunstsenter, L'appartement 22 Rabat, Institute of Contemporary Art in London, Galeria Vermelho-Sao Paulo, Kunsthall Mulhouse in France, Colomboscope in Sri Lanka.
Location: Faculty Library of Social Science (Det Samfundsvidenskabelige Bibliotek), Gothersgade 140, DK-1123 Copenhagen K
Wednesday 29 August:
19.00 - 21.00:
Theorist Sidsel Nelund - Thesmophoria: On the Economization of Art, Research and Politics.
Moderator: Line Ellegaard, Curator, SixtyEight Art Institute.
The past decades have seen a series of attempts in Europe and the Middle East to use art spaces to create political spheres and engage citizens through artistic and research-based responses to matters of collective concern. Think of topics such as the Anthropocene, Europe after 1989, economy and migration, together with the use of terms such as forum, assembly, hearing and summit in the titles of large scale and oftentimes recurrent exhibitions. But what implied histories do such attempts carry with them? And how can we actively choose which histories to base further attempts on?
Sidsel Nelund is Head of the Institute of Art, Writing and Research at The Royal Danish Academy of Fine Arts, Schools of Visual Arts. She holds a PhD from the University of Copenhagen with the dissertation Acts of Research: Knowledge Production in Contemporary Arts between Knowledge Economy and Critical Practice (2015). In her academic and performative writings, she is interested in collective knowledge production, the notion of the forum and the role of the researcher in art. Lately, she has been absorbed in the topic of sleep.
Location: Faculty Library of Social Science (Det Samfundsvidenskabelige Bibliotek), Gothersgade 140, DK-1123 Copenhagen K
Thursday 30 August:
19.00 - 21.00:
Artist Frans Jacobi – Moving Around a Circumstance.
Moderator: Hugo Hopping, Artist/board member, SixtyEight Art Institute.
"But if I move around a circumstance which cannot get away from me, then my pace can be irregular; I can linger or hurry according to my own subjective needs, can take a step backwards or leap ahead, and so forth." (Schiller)
Inspired by an excerpt from a correspondence between Schiller and Goethe, Frans Jacobi will present fragments of the two research projects Aesthetics of Resistance and Synsmaskinen. In an attempt to create situations and structures that enable a 'lingering contemplation' of specific issues, the two projects investigate, respectively, the performative politics of contemporary activism and the hyper-complex realities of contemporary crises. Visiting the concept of 'active time' in order to understand how activism performs certain political figurations, and the method 'semantic field' used to generate short stories, the talk will address art's ability to reflect upon urgent political issues.
The evening will also be a presentation of the book 2061 Inmoral Lidos, produced by Synsmaskinen in collaboration with the performance group Discoteca Flaming Star. 2061 Inmoral Lidos is a collection of short stories, presenting the opaque surface of a bent universe - part fiction, part wild research.
Frans Jacobi, born 1960, Danish visual artist. Frans Jacobi was educated 1982-88 at the Academy of Fine Arts's Sculpture School in Copenhagen, where he also taught between 1994-2006. In 2012, he was awarded a PhD from the Royal Institute of Art in Malmö / Lund University with the dissertation and exhibition Aesthetics of Resistance. The same year he became a Professor at the Art and Design College in Bergen.
Location: Faculty Library of Social Science (Det Samfundsvidenskabelige Bibliotek), Gothersgade 140, DK-1123 Copenhagen K
Friday 31 August:
13.00 - 14.00
Rike Frank and Ane Hjort Guttu - Writings, Conversations, Scripts.
"Either way, the point I find most interesting is that this one exhibition contains two exhibitions. Whatever the problems associated with this exhibition, they are due to the imbalance of power that is always present between a child and a parent. From my standpoint, it has seemed that I have had both my own and Einar's intentions in view, whereas he is only fully aware of his own. But this may not be entirely true; how well have I really grasped what Einar's intentions are, for example? Which mental images does he have, which I cannot even imagine? And perhaps Einar does in fact understand my intentions in some way or other – the fact that I work on a different level than him, which he finds perfectly acceptable. Eventually I came to feel that this text threatened to subvert the entire project. It was impossible for me to print it out, and I didn't come up with anything else. We chose instead to present a 'Booklet about computers', for which Einar had photographed the keyboard and the screen of my computer in various states."
From: Ane Hjort Guttu, Nature/Exhibition, 2013
Writings, Conversations, Scripts is the first survey of text works by Ane Hjort Guttu published in an English and Norwegian edition. Written between 2003 and 2018, the texts range from public statements, poetic short prose and film scripts, to reflections on the role of the artist and essays on art for children. With a special focus on the significance of 'image-text constellations', this anthology, edited by curator Rike Frank and designed by HIT, suggests connections between artistic writing and curatorial publishing.
The book launch comprises readings, playback of a sound piece, and a moderated conversation between Rike Frank and Ane Hjort Guttu.
Ane Hjort Guttu: Writings, Conversations, Scripts is edited by Rike Frank, designed by HIT and published by Torpedo Press, Sternberg Press and Kunsthøgskolen i Oslo (2018).
The event will be held in English.
Location: SixtyEight Art Institute. Gothersgade 167, 1123 Kbh K
15.00 - 16.00:
Curator Bassam El Baroni - The Post-Agonistic Institution.
Moderator: Iben Bach Elmstrøm, Curator/former Director, SixtyEight.
This evening is dedicated to questioning how art and art productions like exhibitions, critical art talks and events have been adopted into the general liberal democratic project. The developments between art and democracy have opened up two general strands: participation, a mirroring or mimesis of democracy; and implication, a critique of democracy. In this light, Bassam El Baroni will revisit the idea of 'agonism' as theorized by Chantal Mouffe, unpack it and think through it. He will talk about what kind of institutional imagination such a theory proposes and its limitations as a methodology taken up by the field of art in view of today's political landscape. The talk will suggest that espousing democratization as a project within the expanded field of art and its institutions requires the acceptance of political antagonism as a starting point and a laboring towards a 'radical intersubjectivity' as an end-point rather than agonism per se.
Bassam El Baroni is Assistant Professor in Curating and Mediating art at the School of Arts, Design and Architecture, Aalto University. He was founding director of the Alexandria Contemporary Arts Forum (ACAF) a now closed non-profit art center in Alexandria, Egypt from 2005 – 2012 and co-curator of the 8th edition of Manifesta – the European Biennial of Contemporary Art – in Murcia, Spain, 2010. He co-curated the Lofoten International Art Festival, Norway, 2013 and curated the 36th edition of Eva International - Ireland's Biennial, Limerick, 2014. Other notable projects include curating 'What Hope Looks like after Hope (On Constructive Alienation)' at HOME WORKS 7, Beirut, 2015 and 'Nemocentric' at Charim Galerie, Vienna, 2016.
16.30 - 18.00:
Theorist and curator Irit Rogoff - Who do We Face?
Moderator: Hugo Hopping, Artist/board member, SixtyEight Art Institute.
Irit Rogoff's talk will take as a point of departure her recent and ongoing theorizing around the construction of a 'we' in political and philosophical terms, as well as in relation to the momentary convergences and communities that 'audiences' in an art context might constitute. In a discussion of future climates of institutional activities and critical practices, and initially positing these thoughts from within Brexit Britain, Rogoff introduces two models of 'we' – one philosophical, one political – and questions the tension between these two, the way they might operate in fusion as well as in relation to the area of art today. In the debate about new challenges in independent artistic and curatorial practices, Rogoff's reflections on collectivity, mutuality and collaborations provide sustained thought on the relations between art, communities and practices of solidarity in relation to political urgencies.
Irit Rogoff is a writer, teacher, curator and organizer. She is Professor of Visual Culture at Goldsmiths, University of London, a department she founded in 2002. Her current work focus on new practices of knowledge production and their impact on modes of research, under the title The Way We Work Now. As part of the collective freethought, Rogoff was one of the artistic directors of the Bergen Assembly, Bergen, 2016.
Location: Faculty Library of Social Science (Det Samfundsvidenskabelige Bibliotek), Gothersgade 140, DK-1123 Copenhagen K
18.00 - 20.00:
Pre-art fair party at SixtyEight Art Institute. Drinks and music.
The Artistic & Curatorial Thing is organised by curator Line Ellegaard and curator Iben Bach Elmstrøm for SixtyEight Art Insitute, 2018.
---
This extended learning and speakers program consists of two strands: one, with closed day workshops and a full event program for a select number of participants; and two, with an evening program of lectures that are open to the general public. This year SixtyEight Art Institute has invited artist Simon Starling, curator/sociologist Maria Berrios, artist Kristoffer Ørum, curator Iben Bach Elmstrøm, artist Jacopo Miliani and curator Jussi Koitela to give workshops, tours and studio visits.
Last year's speakers and workshop leaders included curator, writer, and researcher Simon Sheikh, professor Sarat Maharaj, editor of The Nordic Journal of Aesthetics and associate professor at Aarhus University Jacob Lund, curator at Savvy Contemporary Antonia Alampi, curator at BAK - Utrecht Matteo Lucchetti, writer at kunstkritikk Maria Bordorff, and artist and organizer of Copenhagen Free University and now Hospital Prison Archive Jacob Jacobsen, among others.
---
SixtyEight Art Institute is an artistic/curatorial research organisation that aims to uncover, develop, and further exchanges between artists and curators and their creative labor. The Artistic & Curatorial Thing is SixtyEight Art Institute's new educational arm, which aims to organize and develop public learning formats within the local context of Copenhagen and it is kindly supported by Nordic Culture Point. SixtyEight Art Institute's exhibition program is kindly supported by The Danish Arts Foundation and Københavns Kommunes Billedkunstudvalg.