Memoirs of the Abyss: Three Ecologies and More
Arctic Ice Chess
20 June 2021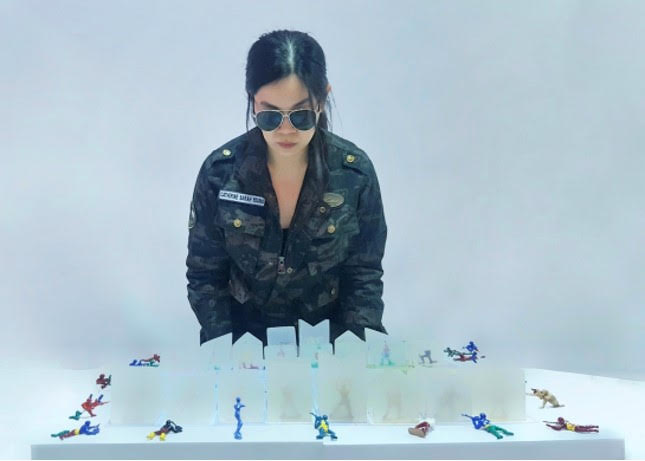 On Saturday 25 September a chess tournament on the subject of climate change will be inititated in Copenhagen Harbour, as part of the curatorial research project Memoirs of the Abyss: Three Ecologies and More, curated by Malou Solfjeld. The first Arcitc Ice Chess match will take place on the prow of the MS Arno, moored at Langebrogade 1C, Saturday 25 Sept. at 12.00-14.00.
More information about the event on Saturday 25 September (in Danish) here.
The artwork Arctic Ice Chess, created by the Philippine artist Catherine Sarah Young, will be activated for the first game by Jon Rahbek-Clemmensen, lecturer at the Institute for Strategy at the Danish Ministry of Defence Academy, who will play a match with melting chess pieces against environmental activist and candidate for mayor, Gorm Gunnarsen, while they discuss issues related to the world's rising sea levels and geopolitical and economic interests in the Arctic.
Upcoming Ice Chess matches will feature the following players:
Theresa Scavenius (Lektor ved Aalborg Universitet i Klimapolitik, stifter af det nye parti Momentum)
Jon Rahbek-Clemmensen (lektor ved Institut for Strategi på Forsvarsakademiet, hvor han også er tilknyttet Center for Arktiske Sikkerhedsstudier)
Rasmus Nielsen (artist member of Studio SUPERFLEX)
Hugo Hopping (artist and founder of The Winter Office)
Keith Brander (Dr Emeritus at The National Institute of Aquatic Resources, section for Oceans and Arctic + member of the pan-European party VOLT)
...more TBA...