Above the Sky, Beneath the Ground
Curated by Rebekka Elisabeth Anker-Møller
1 October - 27 November 2021
Symposium: One Creation, Many Realms
13 November 2021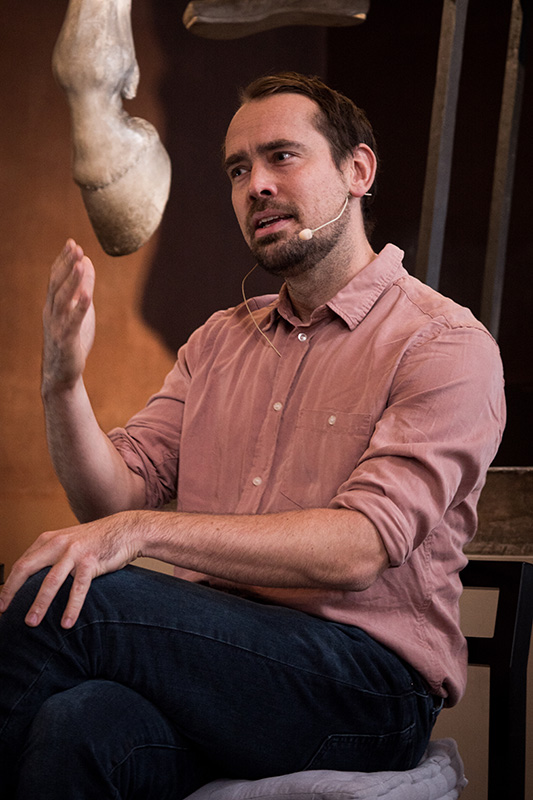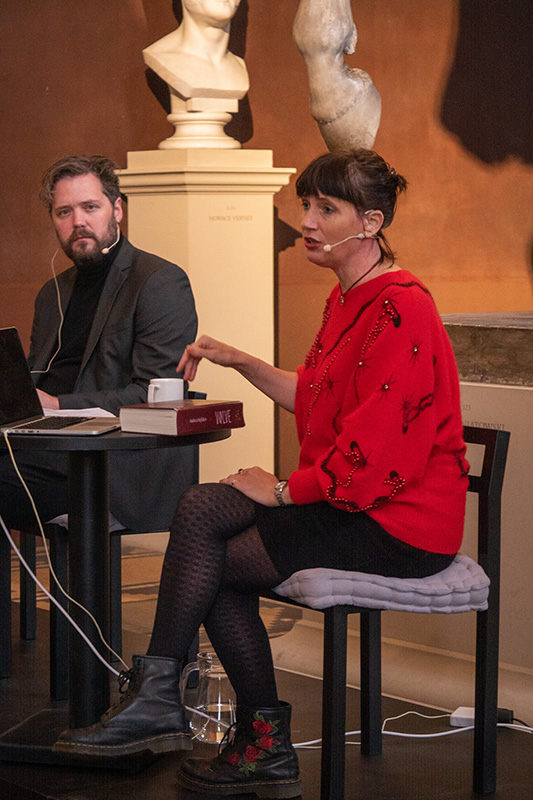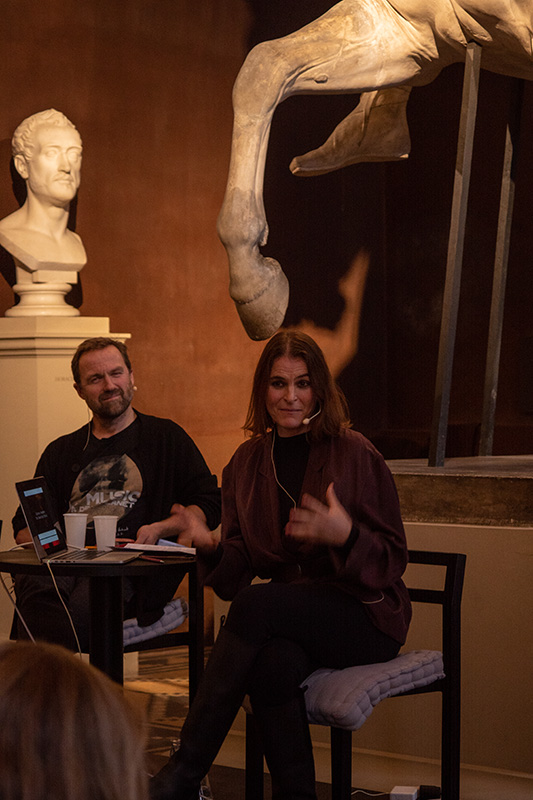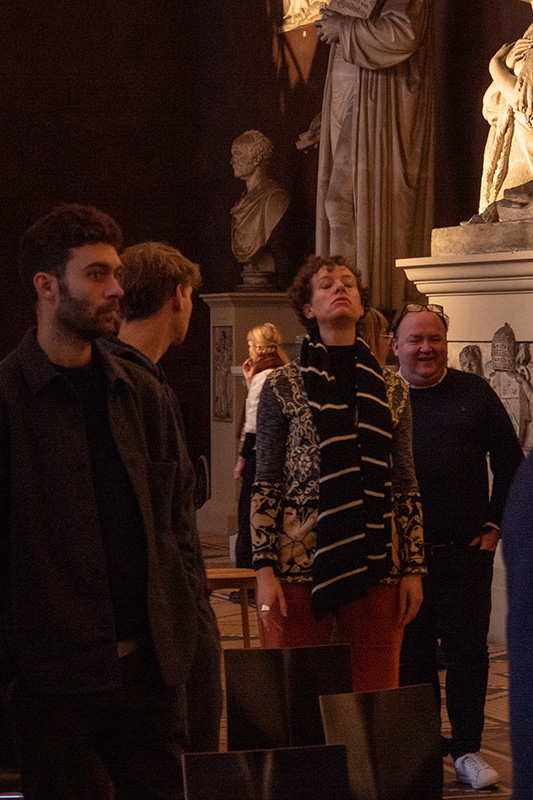 Symposium: One Creation, Many Realms
Organised by Rebekka Elisabeth Anker-Møller
Thorvaldsens Museum
13 November 2021
This special event invited the following artists, researchers and writers, Andrea Hejlskov, Gry Worre Hallberg, Jon Auring Grimm, Kresten Lundsgaard-Leth, Oleg Koefoed, and Susanna Gonzo, to unfold the intersection of New Materialism, Posthumanism, Animism, Deep Ecology; in art and through contemporary readings of materiality, sound, and non-hierarchical world-building/unbuilding ideas. The symposium was organised with the generous help and collaboration of Thorvaldsens Museum and was presented in the main entrance hall of the Museum in Copenhagen.
PANELS
Session 1: Linguistic Performativity: Bodily and Spiritual Entanglements
Susanna Gonzo / Kresten Lundsgaard-Leth
Moderator: Yvette Brackman
Session 2: Embodied Natures: States of Emergency towards Sustainability
Andrea Hejlskov / Jon Auring Grimm
Moderator: Hugo Hopping
Session 3: Transformative Tools: Ecological Connectedness and Daily Practices
Gry Worre Hallberg / Oleg Koefoed
Moderator: Denisa Tomková
INTRODUCTION
This short-format symposium, central to the exhibition project Above the Sky, Beneath the Ground, aims to produce new reflection through the interplay between cross-disciplinary artistic production and curatorial research on the intersection of new materialism, posthumanism, animism, deep ecology in a transformative manner.
The starting point for this symposium is that younger a generation of Nordic artists are working consciously with different forms of materiality, sound, and texture, creating new physical and conceptual starting points out of their practices that are providing empathetic and ethical movements toward new and potential applied knowledges. Specially as new technologies and digital designs create alternative ways to explore materiality, concepts such as authenticity, belonging, intimacy and materiality are becoming navigators for many contemporary artists concerned for the ontology of the art object in the environment. Thereby, in the symposium, artists, researchers, and scholars will reflect on how we, in returning to matter itself, can approach the global state of environmental emergency in artistic-spiritual terms to (re)gain a holistic understanding of new and emerging creation after crisis.
Above the Sky, Beneath the Ground will be accompanied by a publication published by Really Simple Syndication Press that reflects on the presentation topics revealed through the exhibition/symposium as well as the overall discursive public programme of the exhibition. In this way, the entire project takes on the form of a curatorial tool that generates new thinking, knowledge, and curiosity rather than providing fixed solutions or answers to these urgent questions.
BIOS of PARTICIPATING SPEAKERS
Andrea Hejlskov (DK), author, lecturer, and public debater with several books behind her, long lecture tours and regular columns and essays in, among other things, Information. Hejlskov has established herself as one of the most uncompromising communicators of the time. Andrea Hejlskov works in the field between authenticity, culture, sustainability and autofiction; she writes and talks about her own life, but always roots it to larger movements and phenomena in our time. She is a lively and committed narrator who consciously uses "the spoken word" as a method and technique.
Gry Worre Hallberg (DK), is the founder and Artistic Director of the award-winning performance group and movement Sisters Hope operating at the intersection of performance art, research, and activism. Gry is also behind the vision and manifesto Sensuous Society: Beyond economic rationality, which is also the visionary fundament for Sisters Hope's work. She is a requested speaker, facilitator and teacher, and has done two TEDx talks: Sensuous society (2013) and Sensuous Learning (2015). She has published several articles and an artistic research PhD (University of Copenhagen) titled Sensuous Society - Carving the path towards a sustainable future through aesthetic inhabitation stimulating ecologic connectedness. Here she argues that we must develop practices and spaces in which we can move from temporary participation to permanent inhabitation of the arts, which presents a whole new artistic paradigm that she terms "Inhabitation".
Jon Auring Grimm (DK), philosopher who work within the field of literature, philosophy, and art. He is the cofounder of The Academy of Existential Philosophy (Eksistensfilosofisk Akademi) and has been involved in several artistic processes and theater productions. His main interest are eroticism, existential philosophy, and new approaches to nature. Now he is preoccupied with the development of a "new" ecological existential philosophy. He has written, contributed to and edited several books and papers. Amongst others Amor Mortisa postscript to the translation of Colette "Laure" Peignots "Le Sacre" 2021, Solar plexus: Solare sammenfletninger hos Georges Bataille og Inger Christensen in "Paradoks" 2021, Tragisk Lykke i "Kampen om Lykken" (red Svend Brinkmann & Alfred Sköld) 2020 og "Flux - En bevægelse imod en heraklitiansk nietzscheanisme"2011.
Kresten Lundsgaard-Leth (DK), philosopher who specializes in existential philosophy. He wrote his PhD, Possibilities of the Good: Five Studies in Kierkegaard's Existential Philosophy, thesis at Aarhus University. Besides working on Kierkegaard, Lundsgaard-Leth has written and lectured on a wide range of philosophical topics such as ancient philosophy, German idealism, critical theory, as well as contemporary ethics and metaphysics. Lundsgaard-Leth also works for Dagbladet Information as a reviewer, and he frequently does public lectures on philosophy-related subject matters. Lundsgaard-Leth currently works as a research assistant at the Institute for Culture and Learning, Aalborg University.
Oleg Koefoed (DK), Action-Philosopher, PhD, based in Copenhagen. Since 2006, he has been working with cultural approaches and issues related to sustainability and the human-in-nature condition that has come to be known as the crises of the Anthropocene. Co-founder of Cultura21 international network for artists and cultural practitioners working with sustainability issues; Co-founder in 2016 of Growing Pathways, agency for renegotiations of the way that humans inhabit our milieux. Co-founder in 2019 of Action University, offering aesthetically founded learning for sustainability and resilience. Co-founder in 2021 of Pollination Academy, offering a new program for a paradigm shift in inhabiting urban settings. Author of numerous articles and upcoming book, "Home All Over - Aesthetically Based Daily Practices for Re-Membering and Re-kinding the Heartbeat of Entanglement" (2022).
Susanna Gonzo (IT) is a linguist and researcher. She is currently working as a research assistant at Haus der Kulturen der Welt, Berlin. One of her main research areas has been the concept of animacy. She is interested in how linguistic categorizations of animate and inanimate entities affect politics, race, sexuality, nutrition and more. Since 2019 she is part of the multidisciplinary collective Shock Forest Group. The group investigated the history of a former military terrain and forest; and explored a series of local themes through the parallel narratives of geographic metamorphosis, decolonisation, and institutional change. She is also part of the research group ৺ ෴ර ∇ ❃ ﹌﹌ , active between Palermo, Napoli and Berlin. The group's methodological approach is based on the use of dialogical form, self-education, and the re-enactment of rituals and myths as practices of collective inquiry around histories of women in the South of Italy.