Above the Sky, Beneath the Ground
Curated by Rebekka Elisabeth Anker-Møller
1 October - 27 November 2021
The Zombie Function
29 October - 27 November 2021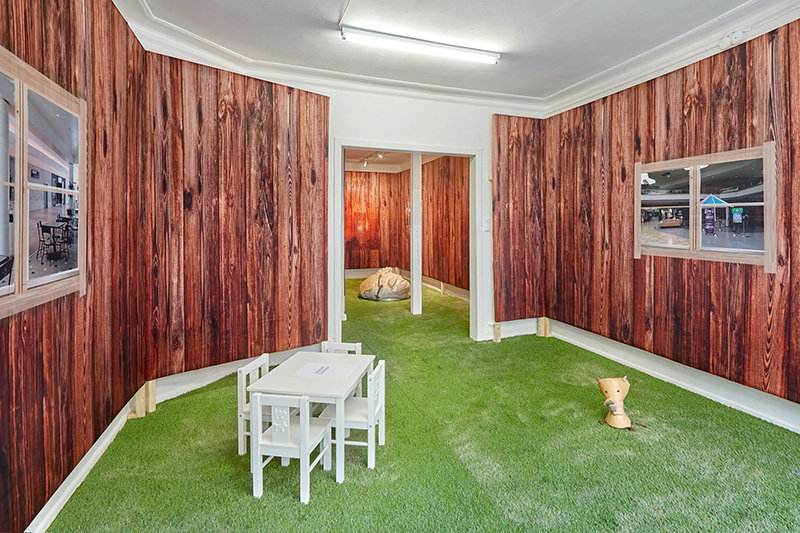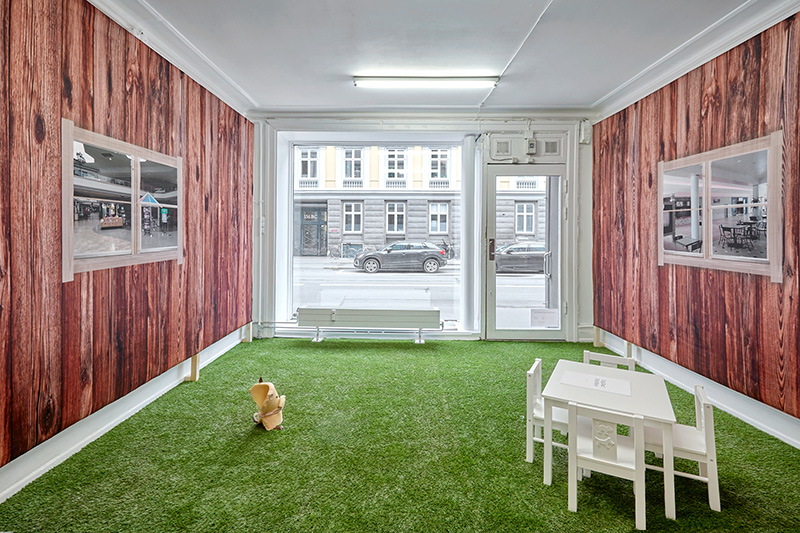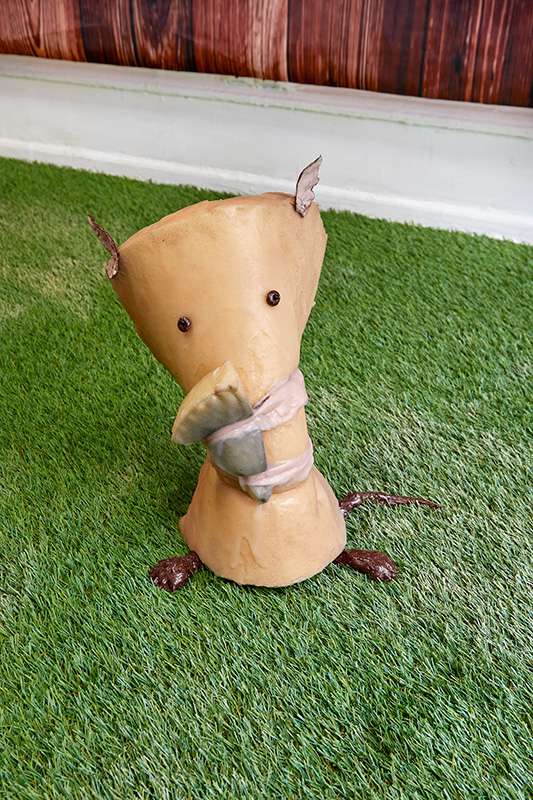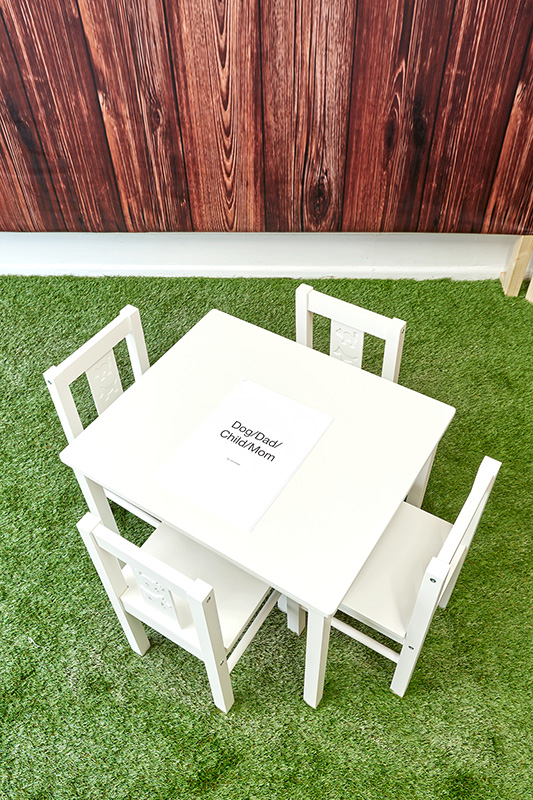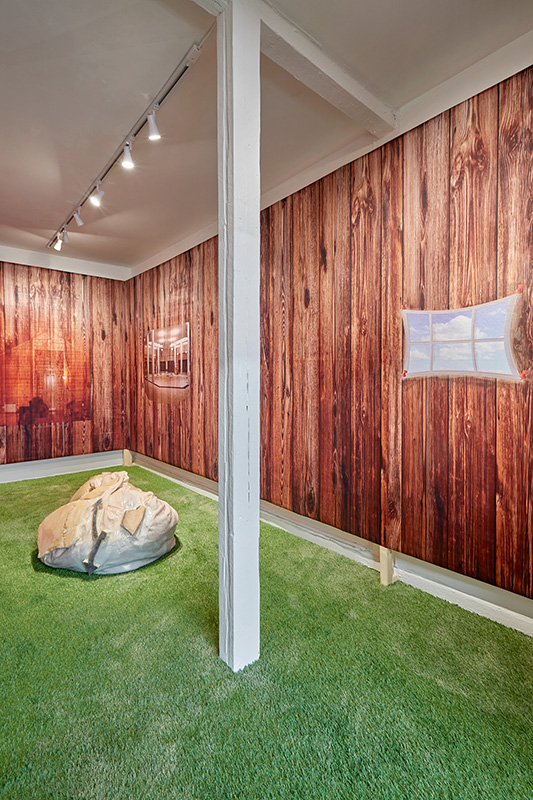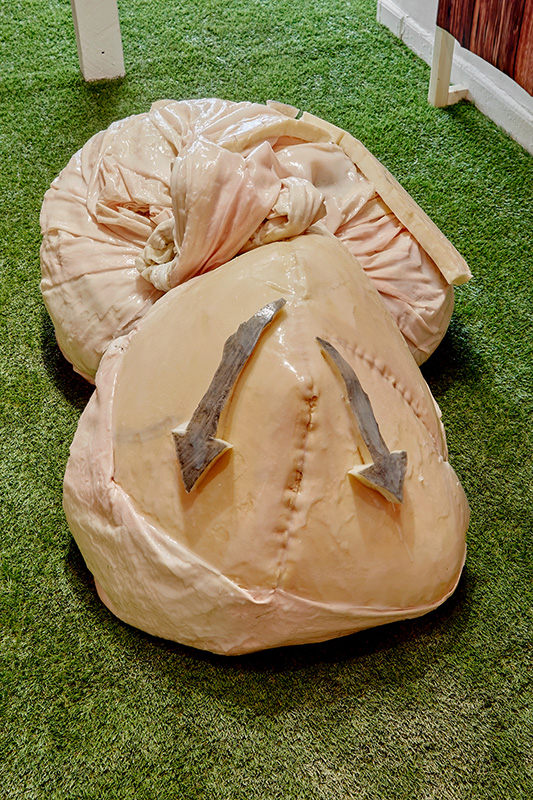 THE ZOMBIE FUNCTION
The exhibition The Zombie Function, the second part of Above the Sky, Beneath the Ground, will work as an aesthetic contrast to the group exhibition Biting the Nest. It will reveal itself as a total installation that humorously and grotesquely processes the family as an institution and in extension an allegory of the State. Where the group exhibition examined a more concrete material approach through a conscious and ethical collaboration with distinct geological materials, Iris Smed's solo exhibition opens questions about gender, biological materiality (the body) and the psychological intangible (family heritage), which operates on a more symbolic, social, and structural level.
Iris Smed's work examines our existence and society from a poetic and performative perspective, and her project blurs the boundaries between installation, performance, video and sculpture, often with theatrical and surreal imagery.
At SixtyEight Art Institute, Smeds will build a set design showing a total installation including two sculptures - Time and Space and Dog - alongside a new manuscript that is available for viewers to read and incorporated into the scene of the overall installation. The installation is a part of her ongoing film project "The Little House in the Food Court" and at the end of the exhibition, she will shoot a new scene where a group of four will read the manuscript and give a round table talk about their own family roles. The exhibition works to put the family construct on display and interrogate the generational threats that lie within it. It also shows how humanity, because of its will to reproduce itself, tends also to reproduce its history and therefore risks making the same mistakes again and again if we do not reflect on the forms we have already created.
SixtyEight is delighted that The Zombie Function will be the first solo exhibition by Iris Smeds in Denmark. At the same time, she is participating in Sweden in the group show A careful Strike at Mint in Stockholm and running till 11 December, 2021. Following these exhibitions, Smeds' overall installation at SixtyEight Art Institute will be included in a group exhibition, organised and curated by Mint, at Varberg Konsthall from 5 February – 1 May, 2022.
This exhibit will also be accompanied by a Symposium: One Creation, Many Realms that will be hosted in the main entrance hall of Thorvaldsens Museum on Saturday, 13 November 12:00 - 16:00 and that has been organised by curator Rebekka Elisabeth Anker-Møller for SixtyEight Art Institute.
All updates for the Symposium will be announced via our Instagram account: @68artinsitute and via our newsletter.
Bios
Iris Smeds (b. 1984) lives and works in Stockholm, Sweden. Iris Smeds has participated in several large group and solo exhibitions in recent years, nationally and internationally. In 2019, she received the Maria Bonnier Dahlin Stipend and is represented in the collections of Maria Bonnier Dahlin and Moderna Museet.
Rebekka Elisabeth Anker-Møller (b. 1984) is an independent curator with a curatorial practice concerning new media, biomimicry, social structures, gender and performativity. She holds an MA in Visual Culture from Copenhagen University and an international MA in Curation from Aarhus University.