C6 Intellectual Output 1
In English:
As part of the Erasmus+ project C6: Creativity, Culture and Collaboration to Combat Climate Change, SixtyEight and our partner organsiations have created a number of so-called 'Intellectual Outputs', which aim to inspire, educate and guide young people aged 18-29 in how to face climate change, make changes in their everyday lives, and become ambassadors for change in their local areas and for social andpolitical change. Below you can access and make use of these IOs.
På dansk:
Som en del af Erasmus+ projektet C6: Creativity, Culture and Collaboration to Combat Climate Change udviklede SixtyEight og vores partner organisationer en række 'Intellectual Outpus', som har til formål at inspirere, oplyse og vejlede unge mennesker i aldersgruppen 18-29 om hvordan de møde klimaforandringernes udfordringer, fortage ændringer i deres dagligliv, og blive ambassadører for forandring i deres lokalmiljøer og for social og politisk forandring. Herunder kan man få adgang til og bruge de forskellige IOs.
IO1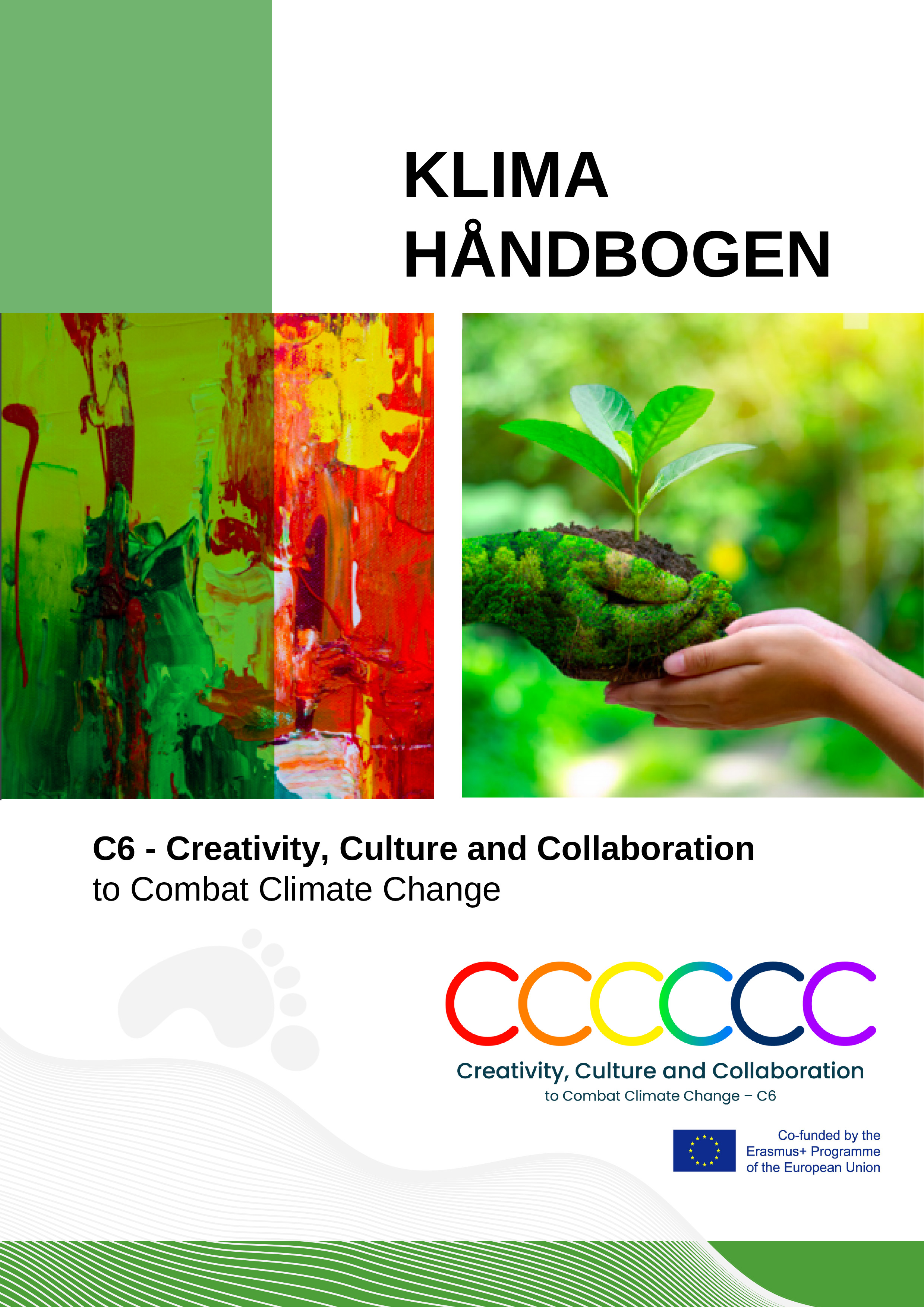 In English:
Intellectual Output 1 is a Climate Handbook, featuring contributions from all the project partners. The Handbook has been produced in the languages of all the partners, English, Italian, Norwegian, Swedish and Danish. The Danish version of the Climate Handbook, Klima Håndbogen, is available for free download below. The design and content were developed with the criticism and input of the project's participants in the age group 18-29, particularly during the first training workshop held in Copenhagen in January 2022.
The Climate Handbook features sections on various topics such as systems thinking, the importance of finding hope in everyday life, collaborating across the generations, thinking about the UN's Sustainable Development Goals in playful ways that can make them achievable and fun, and practical information about greenwashing and ways to identify it.
SixtyEight collaborated with our fellow arts organsiation, CasermArcheologica in Sansepolcro, Italy, to produce five case studies of various artists and projects that address climate change and seek to work in sustainable ways. The five cases are: the foodstuffs community Københavns Fødevarefællsesskab, Lottozero Textile Laboratories in Prato, Italy, Danish artist group SUPERFLEX, Swedish artist Åsa Sonjasdotter, and Italian artist Roberto Ghezzi.
Klima Håndbogen is available here in Danish. We hope you'll find it useful and informative!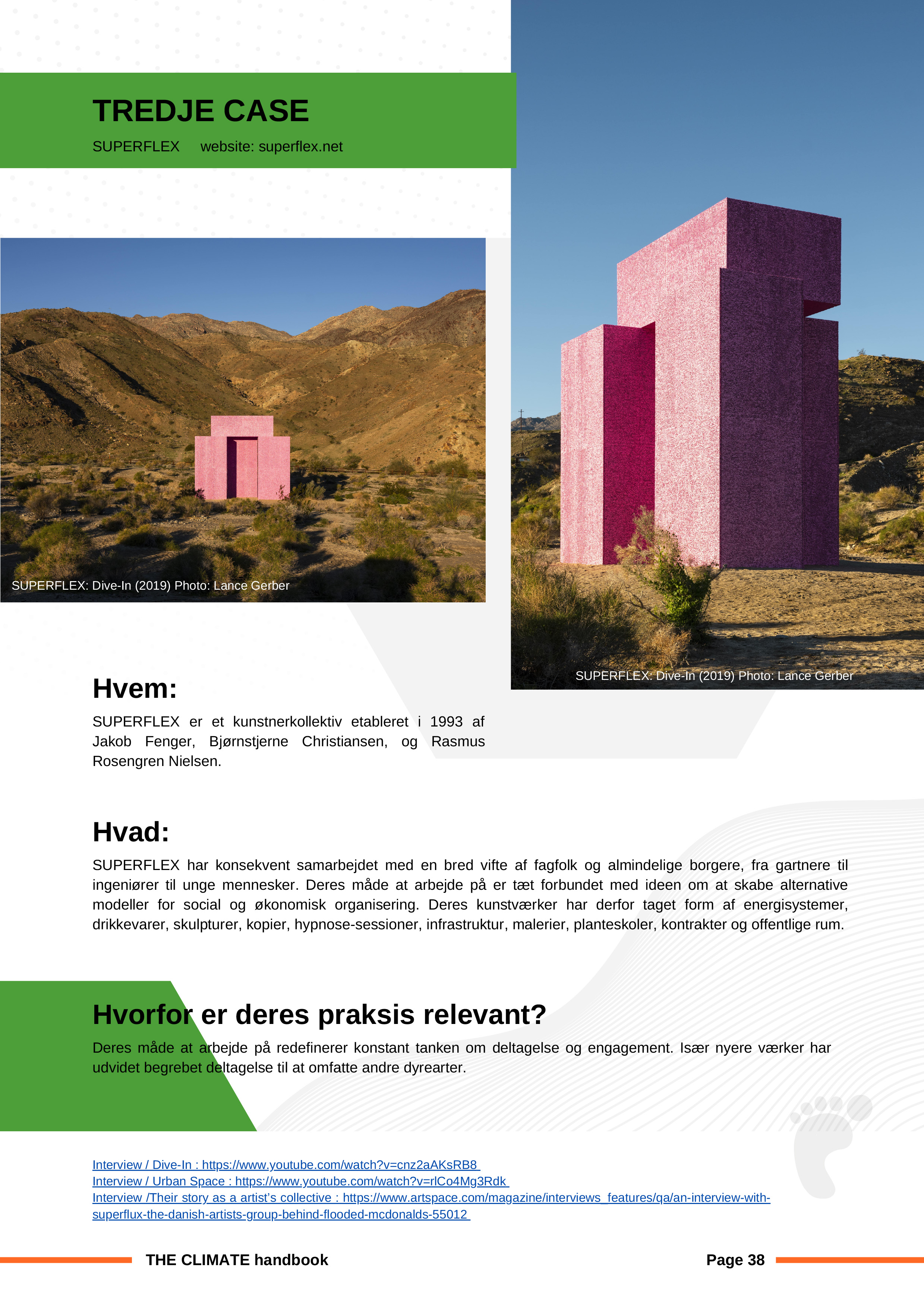 På dansk:
Intellectual Output 1 er en Klima Håndbog, som indeholder bidrag fra alle projektets partnere. Håndbogen er lavet i alle de forskellige partners sprog: engelsk, italiensk, norsk, svensk, og dansk. Den danske version af Klima Håndbogen kan downloades gratis forneden. Både design og indhold er blevet til med kritik og input fra projektets unge deltagere i målgruppen 18-29 år, især under den første workshop forløb, der blev afholdt i København i janaur 2022.
Klima Håndbogen indeholder afsnit om diverse emner som systemtænkning, nødvendigheden af at finde håb i hverdagen, samarbejde på tværs af generationerne, at tænke på FNs Verdensmål på en legende måde der gør dem opnåelige og sjove, og praktisk information om grønvask og hvordan man kan spotte det.
SixtyEight samarbejdede med vores kollegaer på CasermArcheologica i Sansepolcro, Italien, for at skabe fem case studies om forskellige kunstnere og projekter, der forholder sig til klimaforandringer og forsøger at arbejde på bæredygtige måder. De fem cases er Københavns Fødevarefællesskab, Lottozero Tekstil laboratorier i Prato, Italien, den danske kunstnergruppe SUPERFLEX, den svenske kunstner Åsa Sonjasdotter, og den italienske Kunstner Roberto Ghezzi.
Vi håber at I synes Klima Håndbogen er brugbar og informativ!
Download Klima Håndbogen